ABC Has A Diverse Fall Slate of Shows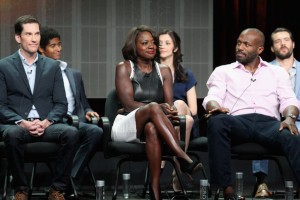 ABC Has A Diverse Fall Slate of Shows
By Lynn Elber
ABC has a diverse fall slate of shows about black, Asian-American and Hispanic families. But calling the network's choices a case study in diversity is to miss the point, said Paul Lee, ABC Entertainment Group president.
"It is a mission statement to reflect America," Lee told the summer meeting of the Television Critics Associationin a recent interview. "That's not so much diversity as authenticity when you reflect America."
The network has the advantage of strong storytellers including Shonda Rhimes, the force behind ABC's "Grey's Anatomy" and "Scandal." She's going for a Thursday-night trifecta with "How to Get Away with Murder."
The new drama stars Viola Davis as a hard-charging law professor and criminal defense attorney, giving the African-American actress the kind of starring role that TV doesn't often accord minorities. Rhimes has done the same thing with "Scandal" and star Kerry Washington.
ABC, the home of white-oriented comedies "Modern Family" and "The Middle," will introduce ethnic families in the sitcoms "black-ish," "Cristela" and "Fresh Off the Boat."
All of them have minority creators or producers or both behind the camera, which Lee said drives the shows' authenticity.
"Black-ish," about an African-American family whose father worries that they're losing touch with their ethnicity, stars Anthony Anderson and Tracee Ellis Ross and includes creator Kenya Barris as well as Laurence Fishburne and Larry Wilmore among its executive producers.
Although the shows are about ethnically specific families, they are "relatable" for all viewers, Lee said. "These are American stories, make no mistake about it," he said.
Barris said race is not the central point of "black-ish."
"This show has so much less to do with race than it does with culture and identity," Barris said. America today is divided more along socio-economic lines than racial ones, he said, and the show intends to explore that division.
When Rhimes was asked to discuss the lesson TV might learn from the rarity of two shows with black female leads, she replied, "Do I think there are any lessons? No, I don't. The shows speak for themselves."Whether her dramas might affect the medium "remains to be seen. It hasn't happened yet," she said.
Lee was asked why one returning show about an ethnic family, "The Goldbergs," seems to avoid the Jewish experience, such as showing a celebration of Hannukah or a bar mitzvah.There is no agenda at work, Lee replied, saying such decisions were up to creator and executive producer Adam Goldberg.
"It's Adam's show," Lee said. "I'm not going to sit there as a network and say, as one Jew to another, 'I want a bar mitzvah.' "
Copyright 2014 The Associated Press.
Feature Photo Credit: eurweb.com
http://connect.facebook.net