Albania Will Extend Citizenship to All Ethnic Albanians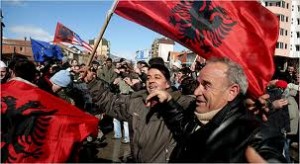 Date: 12/04/2012 03:29 PM
EU–Albania-Citizenship/131
Eds: APNewsNow.
Albania to offer all ethnic Albanians citizenship
TIRANA, Albania (AP) – Albania's prime minister has announced plans to grant citizenship to ethnic Albanians worldwide – including millions in Kosovo and other neighboring countries.
Sali Berisha told a cabinet meeting Tuesday that Albanians in Albania and Kosovo should "feel as one" – while having two separate governments. He insisted that the move will not cause friction with neighbors.
Kosovo's population is more than 90 percent ethnic Albanian. Ethnic Albanians form about a quarter of the population in neighboring Macedonia, where an ethnic Albanian uprising in 2001 brought the country to the brink of civil war. Montenegro and Serbia have smaller ethnic Albanian pockets.
Last week, Berisha angered neighboring Greece by referring to "Albanian lands" in Greece, Serbia, Macedonia and Montenegro. His spokeswoman later said he was referring to the past.
Copyright 2012 The Associated Press.
http://connect.facebook.net