Anti-Semitic Leaflets Decried by Obama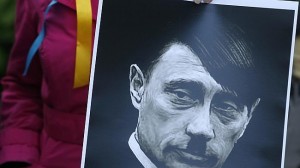 Anti-Semitic Leaflets Decried by Obama
By The Associated Press
Anti-Semitic leaflets, are decried by Obama as having no place on the world stage, anywhere, anytime, the Ukraine being no exception. Even though it is the 21st Century, we are keenly aware of the atrocities of anti-Semitism, and these leaflets are but a painful reminder.
President Barack Obama's national security adviser says anti-Semitic leaflets distributed in Ukraine were "utterly sickening" and that Obama has bluntly expressed his disgust.
Susan Rice is referring to leaflets demanding that Jews in eastern Ukraine register with a self-proclaimed local authority or face consequences. She says the leaflets have no place in the 21st century. And the anti-Semitic leaflets are decried by Obama.
Rice says Secretary of State John Kerry has forcefully conveyed that view to his Russian counterpart.
Rice also says the U.S. will be watching Russia closely to see whether it upholds its end of a deal to de-escalate tensions in Ukraine. But she's not offering a specific timeline for making that judgment.
Rice's comments come as pro-Russian insurgents are refusing to disarm or stop occupying government buildings in eastern Ukraine in accordance with the deal.
Copyright 2014 The Associated Press.
Feature Photo Credit: theaustrialian.com
http://connect.facebook.net