Anti-Semitism Is Driving Jews From France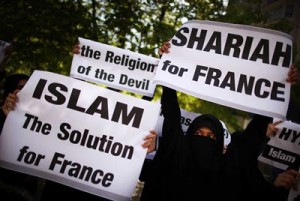 Anti-Semitism Is Driving Jews From France
By Lori Hinnant and Tia Goldenberg
Anti-Semitism is driving Jews from France in increasing numbers. French Jews are leaving for Israel, citing dim economic prospects and a sense of being caught between an increasingly influential far right and militant Islam. More than 5,000 are on track to leave this year, the most since after the Six-Day War in 1967.
As anti-Semitism is driving Jews from France, Israel is seeing the influx as a success,and is doubling down on its efforts to attract Europeans, planning to dedicate $29 million over two years to bring in new immigrants.
France has the world's third-largest Jewish population after Israel and the United States – about 500,000, according to rough estimates. The country bans any official documentation of a person's race, religion or ethnicity in a law with roots in French shame over its collaboration with the Nazis.  It can be seen as unfortunate that now anti-Semitism is driving Jews from France.
Since World War II, France has redoubled efforts to make Jewish families feel welcome. But many say dramatic acts of anti-Semitism coupled with France's stagnant economy — which includes a 25 percent youth unemployment rate, compared with 11 percent in Israel — make a hard choice easier.
Laurie Levy, 26, left in 2013. A native of the southern city of Toulouse, her departure came after attacks by a French-born Islamic radical on a Jewish school and soldiers left seven people dead, including three children and a rabbi. She has given up on a career in French law and left behind her parents and siblings.
French Jews say they have the added burden of watching the rise of an increasingly militant Islam and a revitalized far right. In May, on the eve of Europe-wide elections that saw the National Front party — whose founder has been repeatedly convicted of anti-Semitism — sweep into first place in France, a gunman attacked a Jewish museum in Belgium. The suspect arrested was a Frenchman who authorities say recently returned from fighting with Islamic extremists in Syria.
The number of French Jews migrating to Israel has been around 2,000 annually since the mid-1990s, decreasing from a peak of 5,292 after the 1967 Six-Day War. At the current rate, the Jewish Agency for Israel says French migration appears set to surpass that peak.
The French government is aware of the increase in departures, Foreign Ministry spokesman Romain Nadal said. "Emigration is an individual choice and it's not our place to comment," he said.
Jewish Agency head Natan Sharansky expects the French number to top out at over 5,000 this year. That would be about 1 percent of France's total Jewish population, and compares with 3,300 in 2013 and 1,900 in 2012. With the French economy flat and one in four youths unemployed, the immigration to Israel fits with "a trend in France of young people migrating and trying to find opportunity elsewhere," he said.
David Kadoch is among those on the cusp of departure. Born in a Paris suburb, the married father of two will be joining his two brothers in Israel in August. A network administrator, he's confident that his skills will translate well in his new home even though he speaks what he laughingly describes as "Biblical Hebrew."
"People laugh when I speak Hebrew. I can make myself understood more or less, but I lack any grammar," he said.
Kadoch cited a combination of economic, social and spiritual factors for leaving, including concerns about the future for his two daughters, ages 1 and 3, if Europe returns to its dark past.
"There is a rise in anti-Semitism, there's a difficult social climate, there's a horrid economy," he said of his native land. "From one side and the other, you have people who are hostile to Jews, for completely divergent reasons. And I don't see how, in this context, history can fail to repeat itself."
He acknowledged that Israel's security situation can appear more precarious than that of France, but emphasized that for him, there's a compelling difference.  "The security of Israel at least is handled by people who have the same interests as we do," he said. "That is not necessarily the case in other countries of the world."
___
Goldenberg reported from Jerusalem. Associated Press writer George Jahn in Vienna and Josef Federman in Jerusalem contributed to this report.
The Associated Press, 2014.
Feature Photo Credit: yidwithlid.blogspot.com
http://connect.facebook.net