Blacks Arrested More for Marijuana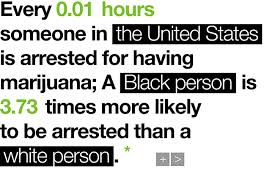 Blacks Arrested More for Marijuana
By Janice S. Ellis
Blacks are arrested more for marijuana and at higher rates than whites in many places across the country. The most recent report comes from a study of police arrests in Madison, Wisconsin. Police in Madison arrest or cite blacks for marijuana offenses at about 12 times the rate they punish whites, according to a report by the Wisconsin State Journal.
The State Journal examined 18 months of police drug arrests (http://bit.ly/1uNILjhhttp://bit.ly/1uNILjh ) data for the report it just released. The study revealed this gross disparity in the face of national survey data that show blacks and whites use pot at about the same rate. The newspaper goes on to report that while blacks make up only 7 percent of the city's population, they make up more than half of the people arrested or cited for marijuana charges.
The police chief, while noting that the study is evidence of racial disparities in the criminal justice not just in Madison but across the country, he also took the opportunity to express his support of legalizing marijuana.
In the meantime, however, what will be done to stop the disparities in arrests among black and white marijuana users? Will it be business as usual until legislation is passed to legalize marijuana?
The State Journal examined drug arrests or citations data from 2013 and the first six months of 2014.  In addition to the marijuana arrest, which ranged from possession of small amounts of marijuana or drug paraphernalia, the paper looked at other felony offenses for distributing large amounts of cocaine or heroin. The data doesn't show the disposition of the charges, in terms of fines or sentencing.
In total the data shows that of the 1,538 people arrested or cited for drug offenses, 618 were black and 874 were white. However, based on population demographics, the rate of arrests amounted to blacks being arrested or cited at a ratio of 25.3 per 1,000, while whites were arrested for pot at a rate of 2.1 per 1,000, according to the State Journal's report.
The rate of arrests of blacks for marijuana and other lesser drug offensive is much higher than that of whites not only in Madison. It is a national occurrence.
Content from The Associated Press was used in writing this article.
Feature Photo Credit: aclu.org
http://connect.facebook.net