Blacks Win Big In Republican Primaries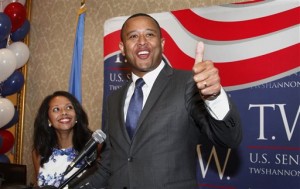 Blacks Win Big In Republican Primaries
By Janice S. Ellis
Blacks win big in Republican primaries in two of the most conservative and racially polarized states, Mississippi and Oklahoma. What does this mean for the November elections?
In Mississippi, six-term U.S. Senator Thad Cochran won in a close run-off against tea-party candidate, Chris McDaniel, by appealing to black voters who have traditionally voted for democrats. In post-election interviews, blacks made it clear that they had come up to vote for Cochran in this election even though they had not voted for him in previous elections.
At the Cochran victory party, Ronny Barrett, a 56-year-old mechanic from Jackson, said that until the June 3 primary, he had always voted for Democrats until the June 3rd primary. He indicated that he decided to support Cochran after closely following news coverage and talking to colleagues and friends.
Barrett who is black went on to say, "Sen. Cochran has done a lot of things for the black community, and a lot of people in the black community might not know that." So, did blacks win big in this Republican primary?
It will be interest to see whether this black support for Cochran will hold in the November general election.
In Oklahoma, two-term Rep. James Lankford of Oklahoma, who is black, won the GOP nomination in the race to succeed Sen. Tom Coburn, who is stepping down with two years left in his term. In Oklahoma, which is a solid Republican state, Lankford is very likely to become the next United States senator.
Lankford also defeated T.W. Shannon, a candidate perceived to be a favorite of the Tea Party and who was backed by former vice presidential candidate Sarah Palin and Texas Sen. Ted Cruz, two stalwarts of the right.
Could it be that blacks are beginning to take a first, second, or third look at "establishment" Republican candidates as a better alternative to Tea Party candidates when it comes to supporting those issues that are important to African Americans?
Results in the mid-term November elections might provide a clue.
Feature Photo Credit: The Associated Press, Jim Beckel, The Oklahoman
http://connect.facebook.net