Britain Is More Ethnically Diverse and Less Religious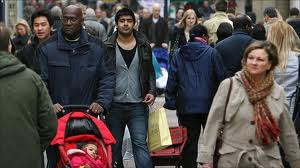 By Sylvia Hui
Britain has millions fewer Christians, many more immigrants and fewer married couples.
Compared to a decade ago, Britain today is more ethnically diverse and less religious, new census figures published Tuesday indicate.
About one in eight people – 13 percent, or 7.5 million – in England and Wales say they were born outside the U.K., compared to 9 percent in 2001. Half of the immigrants have come to Britain in the past decade, the figures from the 2011 Census showed.
Christians are still the largest religious group, but the number of people who stated they were Christian was down 4 million to 33.2 million, or 59 percent of the population, compared to 72 percent in 2001.
Fourteen million slots online people, or a quarter of the population, said they had no religion, a significant jump from 15 percent a decade earlier.
"The release that we are showing today is very much giving a picture of big change since 2001," census director Guy Goodwin said. "The 2011 Census population is a more diverse population."
Among those who described themselves as foreign-born, the most common birthplaces were India, Poland and Pakistan. In 2001, Poland was not yet a European Union member and there were only 58,000 Poles in the U.K. A decade later, they have jumped 10-fold to 579,000.
The census also found that 86 percent of residents of England and Wales identified themselves as white, down from 91.3 percent in 2001.
London is the most diverse place in the country, with under half – 45.8 percent – of the capital"s 8.2 million residents classifying themselves as "white British." More than a third of London residents say they were born abroad.
The proportion of married people last year stood at 47 percent, down from 51 percent in 2001.
The figures released Tuesday by the Office for National Statistics are based on data from 26 million households.
The total population of England and Wales stood at 56 million, representing the majority of the population in the U.K. Figures for Northern Ireland and Scotland are released separately.
 Copyright 2012 The Associated Press.
http://connect.facebook.net