Civil Rights Celebrated With Three New Stamps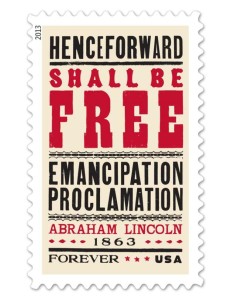 By D.A. Barber 
The U.S. Postal Service is continuing its long-standing tribute to civil rights events and leaders this year to mark cultural milestones with the first in a series of three stamps to be released during 2013. 
This month marks the 150th anniversary of the Emancipation Proclamation, which President Abraham Lincoln signed on January 1, 1863. To commemorate that event the U.S. Postal Service just introduced a limited-edition "Forever Stamp," which is now on sale at Post Offices nationwide. Forever stamps are always equal to whatever the current price is for First-Class Mail. 
The Postal Service first issued a stamp commemorating the 100th anniversary of the Emancipation Proclamation back in August 1963 designed by George Olden, the first African American to design a U.S. postage stamp. The new stamp – designed by Gail Anderson, a former art director at Rolling Stone magazine and designer of Broadway play posters – features the phrase, "Henceforward Shall Be Free" from the original Emancipation Proclamation housed at The National Archives. 
"The Emancipation Proclamation was a powerful symbol of President Lincoln's determination to end the war, to end slavery, and to reconstruct the economy of the country without slave labor," said Deputy Postmaster General Ronald A. Stroman at thestamp dedication in Washington D.C. on January 1st. 
The remaining stamps in the three-part series will be released later in 2013; one featuring Rosa Parks and others commemorating the 1963 civil rights March on Washington. 
The Rosa Parks stamp art is an original portrait gouache painting of Parks by artist Thomas Blackshear II based on a 1950s photograph. That stamp is expected to be released in "early 2013" – she was born February 4, 1913 – though it can be pre-ordered at usps.com. 
The details of the 2013 commemorative stamp celebrating the 1963 civil rights March on Washington, D.C. – a companion to one issued in 2005 – have yet to be released but it's a good bet it will be around August: 50 years ago that month more than 250,000 folks demanding racial reform gathered in Washington and heard Martin Luther King, Jr., deliver his "I Have a Dream" speech. It was 100 years after the Emancipation Proclamation.
http://connect.facebook.net