Court Rules Sentencing Disparity Applies Retroactively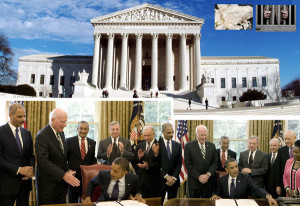 By D.A. Barber.
On May 17, the U.S. 6th Circuit Court of Appeals ruled the reduced sentencing ratio of the 2010 Fair Sentencing Act should apply retroactively to all drug sentencing cases.
In doing so, the court recognized the racial disparity in sentencing was unconstitutional.
Referring to a law signed by U.S. President Barack Obama on August 3, 2010, the court recognized the wide racial disparity between mandatory minimum sentences for crack and powder cocaine offenses, and reduced the sentencing ratio from 100-to-1 to 18-to-1.
The Congressional Research Service had concluded in January 2013 that discriminatory sentencing laws for nonviolent drug offenders, was a primary cause of the huge prison population in the United States.
Last June, the U.S. Supreme Court ruled that the reductions in the Fair Sentencing Act applied to those cases decided before the law was passed but not sentenced, but left open the question of whether it applies retroactively to the tens of thousands of other inmates seeking reduced sentences.
In making the new ruling, Sixth Circuit Judges Gilbert Merritt and Boyce Martin wrote the two-judge majority opinion stating: "More than 80 percent of federal prisoners serving crack cocaine sentences are black. In fiscal year 2010, before the passage of the Fair Sentencing Act, almost 4,000 defendants, mainly black, received mandatory minimum sentences for crack cocaine."
They also wrote, "The discriminatory nature of the old sentencing regime is so obvious that it cannot seriously be argued that race does not play a role in the failure to retroactively apply the Fair Sentencing Act."
This ruling means that those convicted of crack cocaine offenses have a right to resentencing hearings under the 2010 law, but the case could still end up in front of either the full Sixth Circuit Court or the Supreme Court on appeal.
Featured Photo Credit: politic365.com
http://connect.facebook.net