Discrimination Suit Settled Against Large Georgia Farmer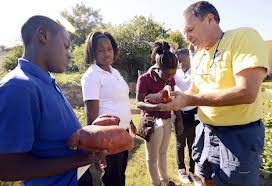 By Phillip Lucas
One of  Georgia's largest vegetable farms reached a settlement with former employees who claimed they were discriminated against because of their race or national origin.
Hamilton Growers Inc., which has done business as Southern Valley Fruit and Vegetable Inc., agreed to pay $500,000 in a suit filed by the Equal Employment Opportunity Coalition. Officials said Georgia Legal Services assisted with the lawsuit, which was filed in September of 2011.
The suit claimed the southern Georgia company fired most of its seasonal American workers – many of whom were African-American – between 2009 and 2011 and kept most of its Mexican employees. The lawsuit also alleged that black workers were given fewer hours, were asked to do lower paying jobs and were subjected to racial comments from a manager before they were terminated.
Jon Schwalls, director of operations at Southern Valley Fruit and Vegetable Inc., denied the allegations Thursday and said the company is committed to equal employment opportunities.
"However, due to the significant costs involved in litigation of this nature, we were compelled to resolve the matter," Schwalls said in an email. He declined to comment further on the allegations.
Attorneys for the former farm workers said the case highlights the problem of employers using the H-2A guest worker visa program to avoid hiring American employees. The program was established to allow agricultural employers facing a shortage of willing or qualified American employees to hire temporary foreign workers.
"We hope this case will bring attention to that problem and that we will see Hamilton Growers demonstrate to its neighbors that offering job opportunities to American workers is not only legally required, but also the right thing to do for communities and local economies," said Leah Lotto, of Georgia Legal Services.
Among other things, EEOC officials said the company agreed to hire and retain qualified American and African-American workers for all farm positions – including supervisory roles. Southern Valley officials say the company will also extend rehire offers to workers who were fired between the 2009 and 2012 growing seasons, and will limit contact between American workers and managers who were targeted in the complaints.
 Copyright 2012 The Associated Press.
http://connect.facebook.net