Dutch Saint Nick Causes Protest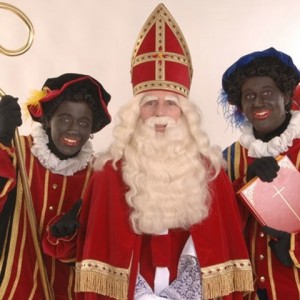 By Mike Corder
Dutch Saint Nick causes protest because of his helpers who are decked out in black face. Police arrested 90 protesters Saturday as a traditional Dutch celebration of the arrival of Saint Nicholas was disturbed by demonstrators who say his faithful sidekick, "Black Pete," is a racist caricature, and by supporters of the popular children's figure.
In some of the worst scenes of unrest in the increasingly acrimonious debate about Black Pete, opponents scuffled with police on the historic market place of the central city of Gouda as thousands of children welcomed Saint Nicholas nearby.
Prosecution office spokesman Wouter Bos said 60 anti-Black Pete activists were arrested for demonstrating away from a location set aside for protesters and were each fined 220 euros ($275). Another 30, both supporters and opponents of Black Pete, were arrested for disturbing public order, Bos told The Associated Press.
Video from Gouda showed scuffles breaking out in its historic downtown while children's songs played in the background. Protesters were detained by police as children watched.
"Deeply, deeply sad," Dutch Prime Minister Mark Rutte told broadcaster NOS. "Everybody can debate one another, we can endlessly discuss the color of Black Pete, but we should not disturb a children's party in this way."
The Dutch cheese capital of Gouda came up with a strategy for reconciliation as Saint Nicholas arrived Saturday. Black Petes walked side-by-side with yellow-colored "Cheese Petes," a nod to the city's most famous products but also a concession to critics of Black Pete. In another sign of changing times, the daily Dutch children's television report on Saint Nicholas' travels also featured White Petes on Thursday night.
The vast majority of people in Gouda were parents and their young children – many dressed as Black Pete – who braved cold and wet conditions to watch as Saint Nicholas arrived and rode through the town on a white horse to the market square.
Across Belgium and the Netherlands, celebrations in which Saint Nicholas rolls into town surrounded by a host of "Black Petes" have come under increasing pressure year by year from complaints about racism. Pete is usually played by a white person who paints his face pitch black, dons a frizzy wig and gives himself bright red lips – stereotypes that disappeared from most countries decades ago.
The Belgian town of Sint-Niklaas, with a church and statue honoring the saint, has long been one of the focal points of the celebrations that spread across the Netherlands and Belgium at this time of year. A grand entrance this Sunday is expected to bring tens of thousands of children flocking to the "home of the saint." Yet even in this bastion of saintly tradition, questions are starting to be asked about Black Pete.
Wouter Van Bellingen remembers how, as a black child growing up in mostly white Sint-Niklaas, he used to be taunted with chants of: "Look, there goes Black Pete."
"Kids can be hard when it comes to that," said the former Sint-Niklaas alderman and current director of the region's Minorities Forum. "I retorted with, 'There goes White Pete.' I always had my answer."
Around this time of year, Saint Nicholas visits hundreds of villages in Belgium and Holland, arriving by steamer or on his white horse to the delight of shrieking children across the two countries. The Black Petes do everything from carrying presents to throwing sweets at the children and generally prancing about until Saint Nicholas day on Dec. 6.
Black Pete has evolved over the years. A quarter century ago, Black Pete was a scary character, carrying a big bag to hold naughty children and a whip to punish the disobedient. Promoting him in recent years as a happy-go-lucky sidekick full of quirky madness has helped him to compete in popularity with Saint Nicholas himself.
"The last few years, Pete is at least as popular. Kids cling to him, ask him questions, hold his hand," said Raf Rumes, the secretary of the Flanders Saint Nicholas Guild.
In another new touch, almost half of the Petes greeting children in this town's Saint Nicholas "mansion" – a yearly holiday attraction – are played by women. At the fun house, which reopened this week for a monthlong run, children squealed as female Petes showed them Saint Nicholas' dining room and sleeping quarters for all of the Petes.
But efforts at softening Pete's image have failed to subdue bad blood between the pro- and anti-Black Pete camps in the Netherlands, where resentments over immigration have simmered for years. Liberals want to abolish the tradition, while the right-wing firebrand Geert Wilders and his anti-immigration Freedom Party have proposed legislation that would keep Pete black – by law.
"There is a war underway against Black Pete," said Martin Bosma, the party's culture spokesman.
Last year, more than 2 million people endorsed a Facebook petition to keep Black Petes' image unchanged. That's nearly one-eighth of the entire Dutch population, indicating the depth of emotion over the issue.
But Van Bellingen insists democracy is not about numbers alone.
"It is about the will of the majority and the rights of the minority," he said. "As a majority you have to be sensitive and show empathy for things that are hurtful to a minority."
He says it's time to get rid of Black Pete.
Copyright 2014 The Associated Press.
Feature photo credit: ugo.com
http://connect.facebook.net