Eco-Racism And Climate Change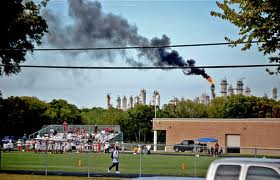 By D.A. Barber 
It turns out that climate change is hitting low-income, minority groups hard on two fronts: Where power plants that spew greenhouse emissions are located, and communities hit by increasing extreme weather events. 
Climate change is not just about the direct impact of superstorms devastating communities in Mississippi, Louisiana, Florida, and Texas, it is also about folks in Detroit, Ohio, and Pennsylvania, who become ill from the toxic power plant emissions that contribute to climate change. And coal fired power plants account for about 40 percent of these emissions. 
Eco-racism is nothing to low-income neighborhoods where class status has always been a parameter for the placement of power plants and industrial facilities often resulting in "Superfund" clean-up sites. NAACP's environmental and climate justice program has taken up the issue by targeting facilities that are poisoning minority communities in their November report, Coal Blooded: Putting Profits Before People, that specifically addresses the disproportionate impact of coal-fired power plant pollution on communities of color. 
Disturbing is the fact that of the six million people living within three miles of the nation's 378 coal power plants, the average income is $18,400 (U.S. average is $21,587) and 39 percent are people of color. Of the two million living within three miles of one of the 12 worst plants, the income averages $14,626 with 76 percent being people of color. 
Now, the Center for American Progress reports that Hurricane Sandy is just the
latest extreme weather event in 2011 and 2012 that typically struck counties with lower incomes the most: When Hurricane Isaac destroyed 13,000 homes in Louisiana and Mississippi in September 2012, the average income of those households was 10 percent below the U.S. median. 
Although the income in areas hit by Sandy was well above the national median, multiple lower income communities were devastated, including Atlantic City and Kings County (Brooklyn), New York where residents earn 42 and 16 percent below the median income, respectively. Many people who were forced to evacuate couldn't afford hotels, while tens of thousands were stranded without power, food, and water. In fact, power outages hit hardest because it spoiled food and food stamp participants couldn't swipe their cards to purchase groceries. Those residents relying on public transit to work were also out of luck. 
Such disasters have long-term consequences for lower-income communities who don't have the ability to deal with it, notes the Center's report, resulting in a  "climate gap" –  a disproportionate and "significant impact on those who are least able to anticipate, prepare for, and recover from them." It is these households who frequently lack insurance, access to health care and financial savings. And, according to the report, lower-income and rural residents generally have less access to evacuation information in advance. 
Meanwhile, some of those same folks in the low-lying flooded areas now face the health impacts left over from storm surge waters badly contaminated by raw sewage and toxic chemicals. 
http://connect.facebook.net