IBM and Ford Accused of Supporting Apartheid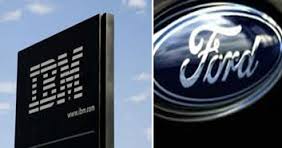 IBM and Ford Accused of Supporting Apartheid
By The Associated Press
IBM and Ford accused of supporting apartheid continue to make their case in the courts after decades of litigation, which claims that they sold computers and cars when it was forbidden.
A federal judge has declined to toss out decade-old lawsuits that accuse IBM Corp. and Ford Motor Co. of supporting apartheid by letting their subsidiaries sell computers and cars to the South African government.
The three lawsuits seek to hold IBM and Ford responsible for race-based injustices including rape, torture and murder under apartheid, a system of race-based segregation and discrimination against nonwhites that ended 20 years ago.
The U.S. Supreme Court recently ruled on the legal reach of the statute under which the plaintiffs are suing, the Alien Tort Statute. The 1789 statute originally was enacted to prosecute pirates and was revived in recent decades to permit lawsuits in the United States against those who violate human rights abroad.
Thursday's ruling from Judge Shira Scheindlin in Manhattan allows plaintiffs to file amended complaints that fit within the reach ruled upon by the Supreme Court.
Emails seeking comment from Armonk-based IBM and Dearborn, Michigan-based Ford weren't immediately answered.
Close to 80 companies initially were named in the lawsuits, filed about 12 years ago, and the vast majority of those claims were rejected.
A district judge threw out the lawsuits in 2004, saying he did not have jurisdiction. He noted that Congress had supported and encouraged business investment in South Africa as a way to achieve greater respect for human rights and a reduction in poverty. And he cited vigorous objections to the lawsuits by the U.S. and its allies.
The U.S. had said the lawsuits posed a foreign policy problem, threatening to inflame U.S. relations with South Africa. The South African government had said the cases interfered with its rights to litigate such claims itself, though it later reversed its position.
Copyright 2014 The Associated Press.
Feature Photo Credit: thehansindia.com
http://connect.facebook.net