Illegal Immigrant Workers Arrested But Not Employers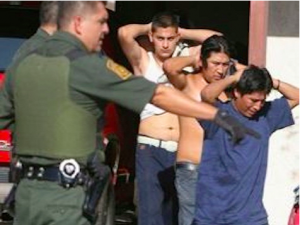 Illegal Immigrant Workers Arrested But Not Employers
By Jacques Billeaud
Illegal immigrant workers are arrested but not employers who consistently and continually hire them. Immigrant-rights advocates have filed a lawsuit challenging business raids by an Arizona sheriff's office that have led to the arrests of hundreds of immigrant workers on charges of using fake or stolen IDs to get jobs.
The lawsuit against Maricopa County Sheriff Joe Arpaio alleges immigrants living in the U.S. illegally have been singled out in such cases, while only a small number of employers have had court cases brought against them on allegations of illegal hiring.
The advocates aren't seeking money and instead are asking a federal judge to conclude that a state law banning employers from hiring immigrants living in the U.S. illegally is discriminatory and conflicts with federal law. They are seeking a court order prohibiting Arpaio from enforcing that law.
Arpaio's office – the only police agency in the state that has raided businesses in enforcement of the employment law – has conducted 83 business raids since the law took effect in 2008, leading to the arrests of more than 700 immigrants who were in the country illegally and three managers. Only three of the state's 144,000 private businesses have had civil cases filed against them.
The sheriff vowed to continue the raids despite the lawsuit's allegations that the tactic is discriminatory. He drew no distinction between people who steal identities for the purposes of taking other people's money and those who use fake or stolen IDs to get jobs. "It's a violation of the law to steal somebody's identification," Arpaio said. "I don't care what the reason is."
Immigrant-rights supporters gathered outside Arpaio's office at midday Wednesday, carrying signs that said, "No More Raids," with a crude portrayal of Arpaio holding either a billy club or sword.
The raids are a key element of Arpaio's signature immigration efforts. A year ago, his office was found by a federal judge to have systematically racial profiled Latinos in its regular traffic and immigration patrols. The sheriff vigorously disputes the profiling ruling and has filed an appeal.
The employment law was passed as Arizona's immigration issue had reached a political boiling point, and advocates for cracking down on immigrants in the country illegally sought to target employers, who are blamed with fueling the nation's border woes.
The lawsuit said the Arizona Legislature acted in a discriminatory fashion when it revamped identity-theft laws to include workers who use fake or stolen IDs to get jobs. Critics of the raids say Arpaio has focused almost entirely on immigrant workers, while doing little to hold employers accountable for illegal hirings.
Supporters of the raids say the law has helped combat identity theft and that the fear of raids has caused employers to follow the rules. The U.S. Supreme Court has upheld the law after business groups challenged it several years ago.
Immigrant workers arrested on ID theft charges spend months in jail without the chance of getting a bond set because a 2006 voter-approved law denies bail to people who are in the country illegally and charged with felony offenses from shoplifting and aggravated identity theft to murder and sexual assault.
Immigrants desperate to earn money to support their families often plead guilty to felony charges to get out of jail, walking away with time-served but often facing deportation and unable to ever again enter the U.S. legally, their lawyers have said.
Bill Montgomery, Maricopa County's top prosecutor who also was a target of the lawsuit, echoed Arpaio's comments. "The enforcement of Arizona's identity theft statutes is without regard to someone's immigration status," Montgomery said in a written statement.
The lawsuit, filed on behalf of two women arrested in the raids, seeks class-action status that would let other immigrant workers join the lawsuit. It was filed on behalf of Sara Cervantes Arreola and Guadalupe Arredondo. Arreola, a supermarket worker, was arrested in a January 2013 raid, while Arredondo, a paper factory worker, was arrested in a February 2013 raid. Both pleaded guilty to an identity-theft charge. "Our records must be cleared so we can work without fear," Arredondo said.
A member of the clergy, the Rev. Susan E. Frederick-Gray of the Unitarian Universalist Congregation of Phoenix, joined the two workers in the lawsuit, alleging the use of taxpayer money to carry out the raids is illegal.
Anne Lai, one of the attorneys who filed the lawsuit, said the latest challenge to the state's employment law differs significantly from a challenge to the statute that was filed in 2007 by business groups. The 2007 case dealt only with how the law affects businesses, while the latest challenge addresses the effects on workers, Lai said.
The Associated Press Copyright 2014.
Featured Photo Credit: americanfreedomfighters.com
http://connect.facebook.net