Is RG III, Quarterback for Washington Redskins, Black Enough?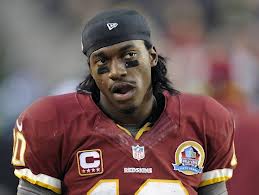 By Russell Roberts
Robert Griffin III, the African-American quarterback of the Washington Redskins who has had a sensational rookie season in the National Football League, found himself called a "Cornball Brother" by ESPN commentator Rob Parker.
Griffin, known more popularly by the nickname RG III, has almost single-handedly breathed life into a franchise that before this year was marked by inept play on the field and inane dealings by the front office. As of this writing, RG III has the Redskins poised to win the NFC East.
RG III's electric play has created a legion of fans all over the league. Yet on December 13, Parker took him to task on the ESPN program First Take for issues completely unrelated to football – his standing as a black man.
Parker said, "My question, which is just a straight, honest question, is…is he a 'brother,' or is he a cornball 'brother'? He's not really…he's black, but he's not really down with the cause. He's not one of us. He's kind of black, but he's not really like the guy you'd want to hang out with. I just want to find out about him. I don't know, because I keep hearing these things. He has a white fiancé, people talking about that he's a Republican…there's no information at all. I'm just trying to dig deeper into why he has an issue."
Parker went on to say that RG III, who wears his hair in long braids, might have some standing in the black community because of that. "To me, that's very urban … It makes you feel like … I think he would have a clean cut if he were more straight-laced or not … wearing braids is … you're a brother. You're a brother. If you've got braids on."
It didn't take long for criticism of Parker to begin pouring in. Both print and electronic media condemned his comments, and the blogosphere lit up with outrage over them. The following day ESPN suspended Parker and said it was conducting a full review.
Parker later apologized for his comments.
The whole issue got started after RG III responded to a question about being the leader of the Redskins as an African-American.
"Whenever you can relate to the population of the team that you play for, I think it makes it that much more special," Griffin said. "I don't play too much into the color game, because I don't want to be the best African American quarterback, I want to be the best quarterback.
Parker is no stranger to controversy. In recent years he has called baseball great Hank Aaron a coward, been suspended by the Detroit News for inaccurate reporting (involving a football player who, ironically, is now RG III's back-up with the Redskins), and finally resigned from the Detroit News after asking the Detroit Lions' then-head coach if he wished his daughter had married a better defensive coordinator.
-30-
Sources
1. http://washington.cbslocal.com/2012/12/14/espns-parker-suspended-for-cornball-brother-comments-toward-rgiii/
2. http://www.washingtonpost.com/blogs/early-lead/wp/2012/12/14/espn-rob-parkers-rgiii-comments-inappropriate/
http://connect.facebook.net