Is the Chicago School Consolidation Plan Racist?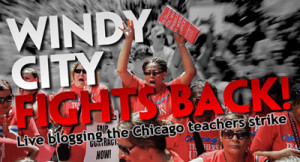 Chicago School Consolidation Plan Racist
By Rita Rizzo
Is the Chicago school consolidation plan racist, or is it really the best plan for the future of black students?  Many of the affected communities, which are predominantly African American, believe that it is racist.
Progress Illinois reveals that 80 Percent of the students impacted by the closing of 54 Chicago public schools are African American. Consider that the Chicago public school student body is comprised of only 43 percent black students and the disparity is glaring. It certainly begs the question: Is the Chicago school consolidation plan racist?
Mayor Rahm Emanuel defended the move by saying, "This is very difficult, a lot of anguish, I understand that, and I appreciate it, but the anguish and the pain that comes from making the change is less, or minimal, in my view, or pales compared to the anguish that comes by trapping children in schools that are not succeeding."
But the plan's opponents aren't buying it. Activist Wendy Matil Pearson sees race as a driving factor in Emanuel's education overhaul. "I don't see any Caucasians being moved, bussed, or murdered in the streets as they travel along gang lines, or stand on the steps of a CPS school," said Pearson.
True enough, the African American students will be torn asunder from their friends, neighborhoods, and teachers. It is these students who will spend hours on buses, only to be seen as the "outsiders" upon arriving at their new schools. Students, who are already at risk due to their impoverished circumstances, gun and drug ravished neighborhoods, will be asked to "adjust" and make a success of their new situation.
What is the best plan to raise the quality of education for 30,000 children currently enrolled in Chicago's worst performing schools? Will it help these children to gain more exposure to white middle class students? How will these kids respond to teachers who may or may not know about the traditions, practices, and conditions of their neighborhoods of origin?
Is the Chicago school consolidation plan racist or in the best interest of African-American students?
Time will tell.
http://www.progressillinois.com/news/content/2013/03/25/emanuel-makes-first-public-comment-school-closings
http://www.breitbart.com/Big-Government/2013/03/23/Opponents-Call-Rahm-Emanuel-Chicago-School-Closing-Plan-Racist
http://connect.facebook.net