Jewish Synagogue Target of Anti-Israel Protest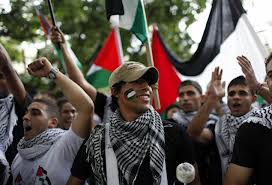 BC-LT–Venezuela-Israel-Protest,2nd Ld-Writethru/217
Eds: Recasts first paragraph.
Anti-Israel protest targets synagogue in Venezuela
CARACAS, Venezuela (AP) — Leaders of the Jewish community in Venezuela said about 50 people protested Israel's airstrikes in the Gaza Strip outside the largest synagogue in Caracas.
The Venezuelan Confederation of Israelite Associations said in a statement that the demonstrators hurled fireworks inside the synagogue Thursday, disrupting activities and causing panic. The organization said the unidentified people shouted anti-Semitic slogans condemning Jews for the violence in the Middle East.
The organization called on the government to guarantee security at places of worship.
The protest came a day after Israel and the Hamas militant group agreed to a cease-fire to end eight days of rocket attacks and airstrikes.
The Jewish confederation has previously expressed concern about anti-Semitic statements in Venezuela's state media and has asked President Hugo Chavez's government to ensure security at synagogues.
In 2009, a group of intruders broke into the same synagogue, shattering religious objects, spray-painting anti-Semitic slogans and stealing a computer database with names and addresses of Jews. Authorities later arrested 11 people, including eight police officers, for alleged involvement. Chavez condemned that attack.
That incident occurred amid diplomatic tensions between the Israeli government and Venezuela. Chavez severed diplomatic ties with Israel in 2009 in protest over its military offensive on the Gaza Strip that year.
Copyright 2012 The Associated Press.
http://connect.facebook.net