Leadership,Coaches at Universities Mainly White and Male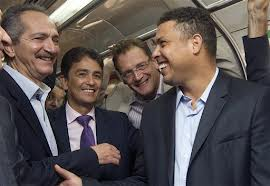 By Kyle Hightower
ORLANDO, Fla. (AP) – A study of the racial and gender makeup of leadership and coaching positions among the Football Bowl Subdivision membership showed it remains largely white and male.
The report released Wednesday by the Institute for the Diversity and Ethics in Sport at the University of Central Florida said that 100 percent of FBS conference commissioners, 76 percent of school president positions and 84 percent of all athletic director positions were held by white men at the beginning of the 2012-13 academic year.
It also showed a decline in the percentage of women in campus leadership positions with a slight increase in the representation of people of color, especially for Latinos and Asians.
Among the FBS' 120 institutions, there were 18 minority head coaches to begin the season, down from an all-time high of 19 last year. That total included 14 African-Americans, two Latinos and two Asians.
"For me as somebody who has worked on college campus for 30-plus years it's especially discouraging that in terms of hiring practices are far behind the professional levels," said primary study author Richard Lapchick. "I would have hoped that colleges would have at least kept pace, but they are clearly behind in hiring practices."
For the position of faculty athletics representative, 94.4 percent are white and 31.7 percent are women.
According to 2011 data compiled by the Chronicle of Higher Education, 6.3 percent of full-time faculty members are Asian, which is 1.2 percentage points less than the 2007 data reported in last year's study. African-American and Latino faculty members have grown by 1.6 and 0.6 percentage points respectively, to seven and 4.2 percent. Forty-seven percent are women.
For coaches, the study's numbers don't reflect the recent dismissals of Joker Phillips at Kentucky, and Jon Embree from the University of Colorado, who drew attention to the poor rehire rate for minority coaches.
During his final news conference earlier this week, Embree hinted at a double standard for African-American hires after they are fired from a head coaching job.
Tyrone Willingham is the only African-American coach to be hired for another head coaching job (by Washington in 2005) after having been fired (by Notre Dame in 2004).
"We don't get second chances," Embree said. "And that's OK, you know it going into it … But every minority coach knows that going into it. Eventually that'll change."
The numbers show that change is coming at a slow pace.
Since 1982, there have been 546 head coaches hired in the FBS and 41 African-Americans since Willie Jeffries became the first at Wichita State in 1979. There have also been three Latino and two Asian/Pacific Islander head coaches hired in FBS history.
"Our representation is not consistent on the court or on the playing fields," Black Coaches and Administrators executive director Floyd Keith said. "You have to look at the numbers."
Keith noted that a pair of other African-American coaches have been fired from FBS jobs and rehired, though not on the FBS level.
"Turner Gill was fired at Kansas but ended up at (Football Championship Subdivision) Liberty. We had Tony Samuel at New Mexico State and he ended up at Southeast Missouri State. With only 41 individuals hired in history, it's not a very good record," he said. "You have to say getting back in the cycle is difficult. So you have to make the most of your first chance."
Keith also echoed the importance of getting more diversity at the leadership positions.
"I think in total it's about college athletics," he said. "When you're making decisions, there was the old term 'Out of sight, out of mind.' If you aren't represented around the table, your concerns aren't heard. And that's at all levels."
Both Keith and Lapchick continue to advocate for an "Eddie Robinson Rule," which like the NFL's Rooney Rule, would mandate that minorities are included in the interview process for open head coaching and key front office positions.
Since the BCA started putting out its hiring report cards in 2004, the number of minority coaches in the FBS increased 600 percent from three to last year's high of 19.
BCA partners with Lapchick to put out the report cards and said that in the latest one, which is scheduled to be released this week, three schools that hired black coaches received poor grades because they didn't invite more minority candidates to the interview process.
"If they continue to be excluded from that interview room, not much is going to change," Lapchick said.
Keith said the process of bringing a Robinson Rule to college athletics continues to be a slow process.
"We've had meetings, and I don't think anything has ever seriously developed out of it … they simply have been discussions," he said. "We keep talking about it. We see minor advances in terms of overall landscape, but there's hasn't been a watershed change."
He said his resolve to see it happen won't be affected by the pace, though.
"Perseverance. We've got to keep being advocates," Keith said. "We have to continue it and keep it going."
http://connect.facebook.net