Making Hollywood Reporter "A" List Is Big Deal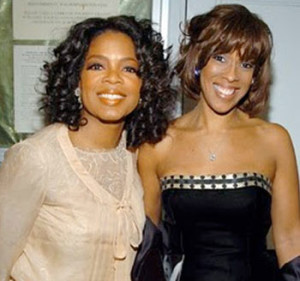 Making Hollywood Reporter "A" List Is Big Deal
By D.A. Barber.
Making Hollywood Reporter "A" list is a big deal.  Of the 35 people on  the list,  three people of color made the list.
When the Hollywood Reporter posted this year's "35 Most Powerful People in Media" on April 10, it represented virtually a Who's-Who of mostly well-known news anchors, late night TV hosts, radio hosts, and mega-wealthy media moguls. Unfortunately, there seem to be very few people of color who rate and who is not "powerful" in the media.
The Hollywood Reporter describes the 3rd annual list as containing Hollywood heavyweights who's "decisions, tastes, and every last word drive thoughts and behaviors and set a national agenda…" Making the Hollywood Reporter "A" list is a big deal.
Of the 35 people on the list, three people of color made the list – all women.
Gayle King (who co-hosts "CBS This Morning" with Charlie Rose and Norah O'Donnell) made the cut. The 2013 list does note that "King's Rolodex of friends in high places" includes Michelle Obama and Oprah Winfrey.
Robin Roberts, another co-host (this time on ABC's "Good Morning America,") recently won a Peabody award for reporting.
One full-fledged TV host who made the cut was Wendy Williams, of the high-energy "Wendy Williams Show" which is in its fourth season.
But the Hollywood Reporter list may have missed a few, according to the "Top 13 Women of Color to Watch in 2013," released a month earlier by the Center for American Progress.
The list, made up of "13 women of color to watch, who are leaving their mark on everything from politics to entertainment to health," includes two media heavyweights:
Joy-Ann Reid, managing editor of NBC's, The Grio website and a regular on-air contributor on MSNBC, as well as a political columnist for The Miami Herald.
The Hollywood Reporter also missed Shonda Rhimes, best known as the creative force behind for TV's "Grey's Anatomy," "Scandal," and "Off the Map," as well  as named one of Time magazine's 100 people who help shape the world in 2007.
There are questions about whether making the Hollywood Reporter's "A" list is that big of a deal.
Featured Photo Credit: blacklovespeak.wordpress.com
http://connect.facebook.net