More Diversity Among Economists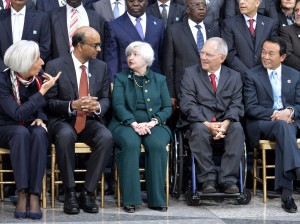 By Marcy Gordon –
More diversity among economists is sorely needed. Federal Reserve Chair Janet Yellen says she wants to raise awareness of the need for diversity among economists, with relatively few women and minorities still choosing to major in economics in college.
Yellen, who is the first woman to head the central bank in its 100-year history, was speaking Thursday at a conference on diversity in the economics profession organized by the Fed and the American Economic Association.
"History shows that economies develop and become more stable through diversification," Yellen said. She added that in the financial world, diversity among market players is critical in spreading risk.
And she said decisions by the Fed are better because of the range of perspectives among its policymakers.
Among the questions to be addressed, Yellen said, is how college students view the coursework and employment prospects for economics majors compared with what the actual prospects are. The lack of diversity among economics majors may reflect "a more general need to make basic economics more relevant and otherwise appealing to undergrads," she said.
She noted that the economics association has examined the so-called "leaky pipeline," the greater tendency among some groups to abandon economics education and employment before or even after getting a PhD.
Yellen came to work at the Fed in 1977 and was one of relatively few women economists. She has credited the contributions of women for a large part of U.S. economic success over the past century, saying that women's increasing participation in the workforce especially after 1970 has been key to sustaining growth in family incomes.
The Fed, with more than 300 PhD economists plus another 400 at its 12 regional reserve banks, has made significant progress in increasing diversity since her start there, Yellen said. She said the Fed is committed to making further progress.
The failure of many economists to foresee the ravages of the financial crisis that struck in 2008 helped spur public debate in recent years over the health of the economics profession, Yellen noted. That raises the question, "Did the economics profession recruit and promote the individuals best able to bring the energy, the fresh insights and the renewal that every field and every body of knowledge needs to remain healthy?" she said.
Copyright 2014 The Associated Press.
Feature Photo Credit: businessinsider.com
http://connect.facebook.net