Muslim Mosque Attacks in Britain Inflame Racial Conflict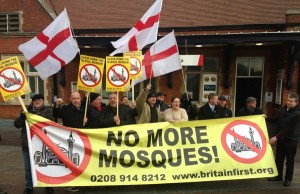 Muslim Mosque Attacks in Britain Inflame Racial Conflict
By Jill Lawless
Muslim Mosque attacks in Britain inflame racial conflict and such incidents have been on the rise since May of this year in a number of locations across England.
A white supremacist Ukrainian student pleaded guilty Monday to murdering an 82-year-old Muslim man and plotting a terrorist bombing campaign against British mosques in an attempt to inflame racial conflict. Pavlo Lapshyn admitted murdering Mohammed Saleem, who was stabbed to death as he walked home from prayers in the central England city of Birmingham in April.
Lapshyn also pleaded guilty to leaving home-made bombs outside three mosques in the region in June and July. They exploded, but no one was injured.
Police said Lapshyn, a 25-year-old engineer in Britain on a work placement with a software firm, was motivated by hatred of non-whites and a desire to stir up racial tension.
He killed Saleem five days after arriving in the country, then moved on to the mosque attacks.
"I have a racial hatred so I have a motivation, a racial motivation and racial hatred," he told detectives after his arrest. "I would like to increase racial conflict." Detectives believe Lapshyn acted alone.
Assistant Chief Constable Marcus Beale of West Midlands Police said Lapshyn was a "dangerous and evil and completely ill-informed man."
The mosque explosions came amid heightened tensions after the death of Lee Rigby, a British soldier who was killed by alleged Islamic extremists on a London street in May. Several mosques and Islamic centers across the country were defaced or attacked.
The largest of Lapshyn's bombs was packed with nails and the explosive compound HMDT and left outside a mosque in the town of Tipton, timed to explode as worshippers arrived for Friday prayers. Police said people would have been killed or injured had not prayer time been changed because of Ramadan.
Detective Supt. Shaun Edwards of the West Midlands Counter Terrorism Unit said police found partly made bombs, chemicals and bomb-making equipment at Lapshyn's home, "so it is clear he planned to place further devices with the intention of killing or maiming innocent members of the public."
Lapshyn is due to be sentenced on Friday.
Copyright 2013 The Associated Press.
Feature Story Photo Credit: islamophobiawatch.co.uk
http://connect.facebook.net