N.C. HBCU Crime Scandals Increase Political Attacks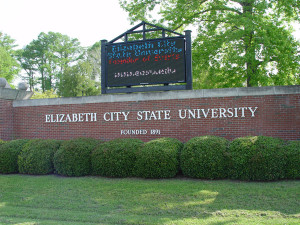 By D. A. Barber.
A North Carolina HBCUA chancellor and campus police chief resigned as a growing scandal may provide the impetus to those who wish to see the HBCU closed. The controversy revolves around Elizabeth City State University's (ECSU) handling of some 125 allegedly unreported campus crimes.
Founded on March 3, 1891, ECSU is one of North Carolina's five public HBCUs, that includes Fayetteville State, North Carolina Central, North Carolina A&T, and Winston-Salem State.
The problems surfaced when a co-ed reported a double sexual assault in her dorm room by her dorm leader to campus police in April, however, dorm assistant Anthony Butler remained free until the Elizabeth City Police stepped in to make the arrest.
The State Bureau of Investigation conducted an independent investigation into allegations of obstruction of justice and witness intimidation at ECSU at the end of April. The person responsible to investigate the case, Campus Police Chief Sam Beamon, resigned on May 10, and as the investigation continues, the State Bureau removed four other campus officers from the job.
As the State Bureau investigated the case, they discovered inconsistent crime logs, and a clear lack of reporting on other alleged sexual assault cases. However, the true depth of the problem arose on May 14 when ECSU Chancellor Dr. Willie Gilchrist, announced that with the help from the Elizabeth City Police, campus police failed to investigate 125 campus crimes since 2007, 18 of which were sexual assault cases. As a result, the university faces a loss of federal financial aid and over $4 million in fines for not reporting the crimes as required by law.
On May 17, Chancellor Gilchrist resigned his post from ECSU effective June 1, but the fear is that the campus will become even more racially and politically charged than it already is.
In March, North Carolina Governor Pat McCrory proposed more than $130 million in cuts, while some lawmakers suggested that with 16 campuses in the state's system, there may be too many. ECSU was one the colleges discussed as a target for possible closure, but with the help of the State NAACP, HBCU Alumni, and Democratic politicians, the campus fought off the effort for now.
Then on April 19, Pasquotank County Board of Elections removed 56 students at ECSU from the  voter registration rolls after the local Republican Party chair challenged the registration of 60 voters, 59 of whom used an ECSU campus address to register to vote.
Featured Photo Credit: http://mmt.cs.ecsu
http://connect.facebook.net