President Encourages Strong Relationship With American Indian Leaders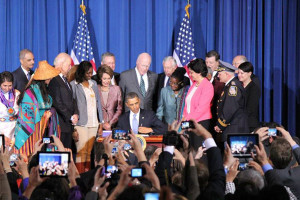 By D.A. Barber.
On Thursday, June 27, newly-appointed Secretary of the Interior Sally Jewell spoke at the closing session of the National Congress of American Indians Mid Year Conference in Reno, Nevada, about the new White House Council on Native American Affairs President Barack Obama established with an Executive Order on June 26.
"This Council is an important step in this Administration's efforts to further strengthen its commitment to advancing tribal self-determination," said Jewell. "The Council will help ensure that the federal family has regular and meaningful engagement on the key issues that impact Indian Country so that we can be more effective when it comes to supporting prosperous and resilient tribal communities."
Chaired by Secretary Jewell, who also oversees the Bureau of Indian Affairs, the new council will consist of all Cabinet secretaries and heads of 30 federal agencies to coordinate Indian policy across the entire government to ensure that the Federal Government engages in a true and lasting government-to-government relationship with federally recognized tribes in a more coordinated and effective manner.
"You know better than any of us, what you need in your tribes and in your communities, and I will support that," Jewell told the conference attendees.
President Obama said in his Executive Order statement that the establishment of the new White House Council on Native American Affairs is "to promote and sustain prosperous and resilient Native American tribal governments" and "improve coordination of Federal programs and the use of resources available to tribal communities." 
"We cannot ignore a history of mistreatment and destructive policies that have hurt tribal communities. The United States seeks to continue restoring and healing relations with Native Americans" and promises to "honor treaties and recognize tribes' inherent sovereignty and right to self-government under U.S. law," Obama said in the Order, which covers Indians and Alaska Natives who are members of the 566 federally recognized tribes.
"President Obama's executive order represents a strong step forward to strengthen our nation-to-nation relationship. The council has been a top priority of tribal leaders from the earliest days of the Obama administration. It will increase respect for the trust responsibility and facilitate the efficient delivery of government services," said Jefferson Keel, the president of the National Congress of American Indians. Established in 1944, the National Congress of American Indians is the oldest and largest association of tribal governments in the United States.
During a media conference call with USAonRace, and other reporters after the Reno speech, Jewell said Indian Country deserves a federal partner "that works together in a coordinated and effective manner. What this council will do is bring to the floor the tribal issues that span across a variety of different departments.
The Council will gather three times a year, with the first meeting sometime this summer, according to Jewell. The Executive Order also institutionalizes the annual White House Tribal Nations Conference, held since 2009, and the combined events, ensures the administration will meet with Indian Country leaders quarterly.
Featured Photo Credit: facebook.com
To read more articles about race and ethnicity, visit our sister site USAonRace.com
http://connect.facebook.net