Racism Plagues Atlanta Hawks Team Owners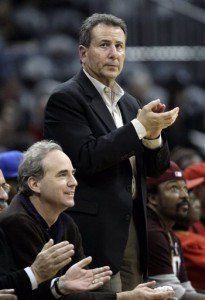 Racism Plagues Atlanta Hawks Team Owners
By Charles Odum
Racism plagues Atlanta Hawks team owners, new revelations reveal.  The latest incident is about a racist comment made by Danny Ferry. Ferry made the inflammatory comments about Luol Deng in a conference call with the Hawks' ownership group in June when the team pursued Deng as a free agent.
Atlanta media outlets obtained a letter Monday night from co-owner Michael Gearon Jr. which cites Ferry telling the ownership group that Deng "has a little African in him." Atlanta Hawks CEO Steve Koonin said Tuesday he is sticking with Danny Ferry even though the team's new majority owner wants the general manager to be fired.
Koonin told the Atlanta's 92.9 The Game, the Hawks' flagship radio station, he made the decision to discipline Ferry but keep him in place as GM. He said he relied on Atlanta law firm Alston and Bird's three-month investigation of Ferry and his racially charged description of Luol Deng.
Gearon's letter on June 12 to co-owner Bruce Levenson said Ferry went on to say, "Not in a bad way, but he's like a guy who would have a nice store out front and sell you counterfeit stuff out of the back."Added Gearon: "Ferry completed the racial slur by describing the player (and impliedly all persons of African descent) as a two-faced liar and cheat."
Deng, 29, was born in what is now South Sudan. His father moved his family to Egypt and then England. The 10-year NBA veteran is now a British citizen and played for England in the 2012 Olympics.Deng, like Ferry, also played at Duke.
Koonin said the firm went through 24,000 documents, conducted 19 interviews and read "every email Danny Ferry has ever sent as general manager of the Atlanta Hawks." Koonin said no other negative information on Ferry was found in the probe."I took their advice and far exceeded their advice," Koonin said of the undisclosed punishment he imposed on Ferry.
Hawks spokesman Garin Narain said the investigation of Ferry's comments uncovered a racially inflammatory email written two years ago by Levenson. That discovery led to Levenson's announcement Sunday that he will sell his controlling share of the team.
In his letter, Gearon recommended that Ferry resign or be fired. "I understand that emotion," Koonin said of Ferry's recommendation. "I certainly understand that emotion. I know people who have said that to me. But if we sentence people based on what everybody wanted, we wouldn't have a justice system."I listened to what (the law firm) said because they had done the work … so that's a decision I'm willing to live with."
Gearon warned Levenson he believed Ferry's comments "could be fatal to the franchise" if made public.Gearon said he and the other co-owners "were appalled that anyone would make such a racist slur under any circumstance, much less the GM of an NBA franchise on a major conference call."
Gearon declined to comment when contacted by The Associated Press on Tuesday and Deng's agent, Ron Shade, did not respond to an interview request.
Ferry apologized Tuesday but said he was only repeating what he had heard about Deng. "In regards to the insensitive remarks that were used during our due diligence process, I was repeating comments that were gathered from numerous sources during background conversations and scouting about different players," Ferry said in a statement released by the team.
"I repeated those comments during a telephone conversation reviewing the draft and free agency process. Those words do not reflect my views, or words that I would use to describe an individual and I certainly regret it. I apologize to those I offended and to Luol, who I reached out to Monday morning." Koonin has agreed to meet with Atlanta civil rights leaders on Wednesday.
The Rev. Markel Hutchins said Monday he asked for the meeting to discuss what he believes is a racist attitude throughout the organization. In his letter to Levenson, Gearon compared Ferry's remarks to much-publicized racist comments which forced Donald Sterling to sell the Clippers. "We believe these comments by Ferry were far worse than Sterling's because they were not from a private personal conversation – they were in a business environment on a business matter in front of a dozen or more people,"
Gearon wrote. "If Ferry would make such a slur in a semi-public forum, we can only imagine what he has said in smaller groups or to individuals." Ferry was named the Hawks' general manager in 2012 following two years as vice president of basketball operations for the San Antonio Spurs. He was general manager for the Cleveland Cavaliers from 2005-2010 and helped build the team that advanced to the 2007 NBA Finals.
There was renewed optimism about the direction of the team after Ferry hired coach, Mike Budenholzer from San Antonio in 2013. Now, the turmoil threatens to derail all their efforts. New ownership must be found and despite the support of Koonin, Ferry's ability to survive the crisis is unknown. One key issue Ferry now must address: Can he draw interest from future free agents?
In his letter of apology, Ferry pledged he would learn from the incident." I am committed to learning from this and deeply regret this situation," Ferry said. "I fully understand we have work to do in order to help us create a better organization; one that our players and fans will be proud of, on and off the court, and that is where my focus is moving forward."
Copyright 2014 The Associated Press.
Featured Photo Credit: The Associated Press, Photo of co-0wners  Michael Gearon and Bruce Levenson
http://connect.facebook.net