Ruby Dee Was Both An Actress and Activist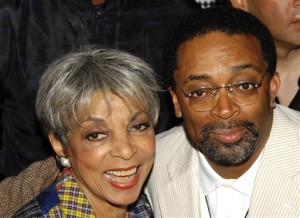 Ruby Dee Was Both An Actress and Activist
By Mark Kennedy
Ruby Dee was both an actress and activist, beginning in the 1960s and throughout her career. To her, acting and activism weren't contradictory things. In fact, they were inseparable, and they were intertwined.
The African-American actress, who earned lead roles in movies and on Broadway, also spent her life fighting against injustice, even emceeing the 1963 March on Washington and protesting apartheid in South Africa. "We are image makers. Why can't we image makers become peacemakers, too?" she asked after she and her husband, Ossie Davis, accepted the Screen Actors Guild Award for Lifetime Achievement in 2000.
Ruby Dee was both an actress and activist in the fullest sense in each of those arenas.
That legacy of entertaining and pushing for change – in addition to the epic love affair with Davis – made Dee, who died at age 91 in her New Rochelle home on Wednesday night, a beloved figure in America and beyond. Broadway theaters will dim their lights in her honor Friday night.
As a sign of how influential Dee has been to generations of performers, she was thanked twice from the podium at this year's Tony Awards, by six-time winner Audra McDonald and new Tony winner director Kenny Leon.
"She will be missed but never forgotten as she lives on in many of us," Leon said in a statement, noting Dee's death came just weeks after that of Maya Angelou. "Maya and Ruby leave us only days apart – those two women with four letter names instructed us on how to live."
Dee's long career earned her an Emmy, a Grammy, two Screen Actors Guild awards, the NAACP Image Award, Kennedy Center Honors, the National Medal of Art and the National Civil Rights Museum's Lifetime Achievement Award. She got an Oscar nomination at age 83 for best supporting actress for her role in the 2007 film "American Gangster."
Spike Lee, who directed Dee and her husband in "Do the Right Thing," took to Instagram to say he was "crushed." He said it was one of his "great blessings in life to work with two of the finest artists and activists – Ruby and Ossie."
President Barack Obama said he and his wife, Michelle Obama, were saddened to hear of Dee's death and will never forget seeing her in "Do the Right Thing" on their first date. "Through her remarkable performances, Ruby paved the way for generations of black actors and actresses, and inspired African-American women across our country," he said in a statement.
Dee made her Broadway debut in the original production of "South Pacific" and in 1959 starred in the Broadway premiere of "A Raisin in the Sun," about black frustration amid racial discrimination, opposite Sidney Poitier. Both reprised the roles in the film two years later.
Ruby Dee will long be remembered as both an actress and activist on the American stage.
The Associated Press, 2014
Feature Photo Credit:
http://connect.facebook.net