American Indian Religion For Sale In Europe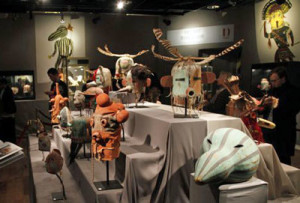 American Indian Religion
By D.A. Barber
The long-standing battle over how little indigenous peoples' religion is taken seriously took a further blow on April 12 when yet another American Indian tribe watched as ancient religious artifacts pillaged from sacred sites were sold at auction.
The Hopi tribe, which number around 18,000, "vehemently opposed" the Paris auction and had requested that the objects – dozens of Native American Indian sacred ritual masks and headdresses – be returned immediately to northeastern Arizona where it is believed they were stolen in the 1930s and 1940s.
The American Indian Religious Freedom Act and Native American Graves Protection and Repatriation Act give such artifacts special status, but the laws have limits as to their return.
The auction house of Neret-Minet Tessier & Sarrou turned down repeated requests to postpone the sale, including objections from the United States ambassador to France and Hopi leaders.
"Given the importance of these ceremonial objects to Hopi religion, you can understand why Hopis regard their sale as a sacrilege and why they regard an auction as not a homage, but as a desiccation of their religion," said Hopi Tribal Chairman LeRoy N. Shingoitewa in a letter to the auction house.
Actor Robert Redford also issued a written statement noting the auction would be "a sacrilege – a criminal gesture that contains grave moral repercussions."
Stephen Corry, Director of Survival International – which filed last-minute legal papers to stop the sale – said, "these are not museum objects but an intrinsic part of a thriving, living culture, which should be treated with respect."
Nevertheless, a Paris judge allowed the sale, noting that despite their "sacred value," U.S. laws offer "no provisions banning the sale outside the United States." Within hours of the ruling, auctioneers sold the artifacts used for for $1.2 million, telling the crowd that when such objects become private collections, "they are de-sacralized."
The New York Times covered the sale in their April 12 "Arts" section.
Featured Photo Credit: news.yahoo.com
http://connect.facebook.net