Some Republicans Support Immigration Reform Now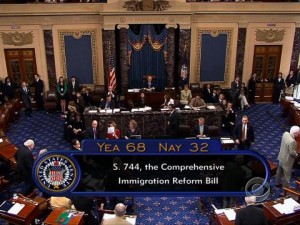 Some Republicans Support Immigration Reform Now
By Sophia Toreen
Some Republicans support immigration reform now, at least those in Illinois, and they are taking the moral high ground on the issue, unlike many of their fellow Republicans in the U.S. House of Congress.
Some of Illinois' highest-profile Republicans voiced support Tuesday for an immigration overhaul that's stalled in the U.S. House as a "morally right" and business-minded decision, an election-year move they hoped would help break the stalemate.
The unusual gathering – even for a state that has some of the nation's most immigrant-friendly laws – featured former U.S. House Speaker Dennis Hastert, former Gov. Jim Edgar, Republican state House and Senate leaders, and several candidates, including state Sen. Jim Oberweis, a U.S. Senate hopeful who has made divisive statements in the past about immigrants.
Organizers said the GOP support, echoed in similar gatherings nationwide, indicated there's been movement and Illinois could help bring legislation lead to a vote soon. Half of the state's six Republican congressmen support Tuesday's efforts. However, some political experts and members of Illinois' active immigrant rights groups said the event was more of an attempt to win over immigrant and minority voters ahead of some likely tight elections this year.
The message among Republicans at Tuesday's event – which included business executives and Republican gubernatorial candidate Bruce Rauner – was pushing forward with comprehensive plans that address all immigrants. Most said they'd support pending legislation that tightens border security and outlines a pathway to citizenship for the estimated 11 million immigrants living in the U.S illegally.
Evidence that some Republicans support immigration reform now was expressed by former U.S. Speaker of the House, Hastert.  "There's a lot of folks that came here that aren't under documentation and they need to be a part of this nation," Hastert said. "We need to be able to give them legitimacy."
A shift was clearest with Oberweis, who is challenging U.S. Sen. Dick Durbin, the Senate's No. 2 Democrat who helped craft the legislation. In 2004, Oberweis released a campaign commercial in which he flew over Soldier Field warning that enough "illegal aliens" were entering the country daily to fill its seats.
"It was poorly done," Oberweis told reporters. "Certainly, 10 years ago I was very naive and not knowledgeable about politics and I made some mistakes. Hopefully I can correct those mistakes and go forward and I'll be a better candidate than I was 10 years ago."
He and other Republicans said they didn't back all parts of the legislation, but organizers said their support would still help.
"It shows just far how debate this has moved," said Joshua Hoyt, director of the National Partnership for New Americans. "There's an acceptance by Republicans in Illinois that immigration reform will help the economy. That there is a moral urgency. That it is political suicide to stay on the wrong side of issue."
Recent statistics for how many of Illinois' registered voters are immigrants were unavailable, but the number hovered around 10 percent, according to an analysis of 2008 U.S. Census data by Chicago demographer Rob Paral. He said the figure is higher now as immigrants have propped up population growth across the state. The Illinois Coalition for Immigrant and Refugee Rights registered more than 150,000 voters – including naturalized citizens and children of immigrants – in the past decade.
The issue has cropped up in the governor's race. Democratic Gov. Pat Quinn has generally enjoyed support from immigrant and minority voters, with many citing his attention to workers' issues and supporting drivers' licenses for illegal immigrants. Rauner's campaign has also reached out to immigrant and Latino voters, releasing a Spanish-language ad, among other things.
Rauner hasn't detailed his platform on immigration. He said Tuesday he supports a pathway to citizenship, but didn't explain. He said he hasn't studied the bill in the House.
Quinn's campaign criticized Rauner for "pretending" to endorse immigration reform and accused him of supporting "anti-immigration" causes with political donations. Rauner dismissed that, saying he's given to many candidates, none of which he agrees with fully.
Still, political experts say that taking on immigration reform is a smart move for Republicans, who've vowed to better appeal to women, minority and immigrant voters.
President Barack Obama, who campaigned on a promise to reform immigration laws, has been criticized for not following through and for the high number of deportations under his administration. And former Florida Gov. Jeb Bush's recent comments about illegal immigration as an "act of love" by people trying to provide for their families has resonated in some immigrant and Latino circles.
"This is a vulnerability on the part of the Democrats," said María de los Angeles Torres, a professor at the University of Illinois at Chicago.
However, longtime advocates were skeptical. Tuesday's event, hosted by the Illinois Business Immigration Coalition, featured attendees in business attire at the usually members-only Chicago Club- a contrast to massive immigrant rights rallies through Chicago streets.
"It's a big electoral game," said Jorge Mujica, who helps organize the marches. "Talk and talk and talk and let's see who comes up ahead in the election. This is not about the people."
Copyright 2014 The Associated Press.
Feature Photo Credit: cbsnews.com
http://connect.facebook.net