STEM Programs Critical to Minority Success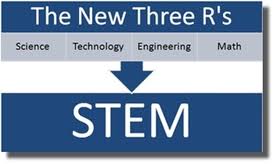 STEM Programs Critical to Minority Success
Educating students early in STEM programs (science, technology, engineering and math) is considered critical to the nation's technology-driven economic growth. And due to shifting US demographics, this means recruiting more minority students.
The fact is that of the 30 jobs projected to have the fastest growth, 17 require some type of higher education, according to the Bureau of Labor Statistics.  "Occupations in the master's degree category are projected to grow the fastest, about 22 percent; occupations in the bachelor's and associate's degree categories are anticipated to grow by about 17 percent and 18 percent," says B.LS. 
But a November 26 Alliance for Excellent Education report notes high school graduation rates of students of color still shadow those of their white counterparts by more than 20 percentage points. According to the report, "Educational disparities continue into higher education where, in 2011, 31 percent of whites age twenty-five and older held at least a bachelor's degree compared to just 20 percent and 14 percent of blacks and Hispanics, respectively."
The growth in tech and scientific jobs also requires math skills, and that's a problem.
An ACT reportreleased in August highlights the staggering lack of college readiness among the vast majority of high school graduates who are not academically prepared for their first year of college – and this is particularly evident among Hispanic and African-American students. While 67 percent of all students met benchmarks in English, only 46 and 31 percent of students passed math and science, respectively.
Once students do get to college, fewer than 40 percent intending to major in a STEM field actually complete a STEM degree. "The first two years of college are the most critical to the retention and recruitment of STEM majors," according to a February 2012 report by the President's Council of Advisory on Science and Technology. The reasons given for abandoning STEM majors vary. High-performing students frequently cite "uninspiring" courses as a reason for switching majors, while low-performing students wanting a STEM career often cite difficulty with the math required and "little help provided by their universities." 
But the PCAST report cites another, more disturbing trend, noting that "many students, and particularly members of groups underrepresented in STEM fields, cite an unwelcoming atmosphere from faculty in STEM courses as a reason for their departure."
That's unfortunate since this "underrepresented" majority – women and minority groups who are now roughly 70 percent of college students but remains underrepresented among those who receive STEM degrees – is a large source of potential STEM professionals going untapped for the wrong reasons.
By  David Barber
http://connect.facebook.net