'The Butler' Shows Modern American History Through a Different Lens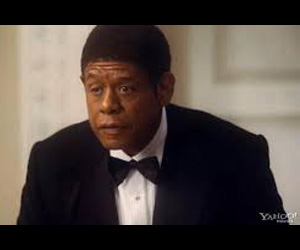 'The Butler' Shows Modern American History Through a Different Lens
NEW YORK (AP) – Too often in American entertainment, stories that may involve multi-cultural or multi-race characters are still told from a white perspective.
"I've been in some of those movies," says David Oyelowo, a star in "Lee Daniels' The Butler." "I was in the 'The Help.'"
The viewpoint of "The Butler," though, is refreshingly colorful. In it, Forest Whitaker plays Cecil Gaines, a man born to sharecroppers who's turned into a domestic servant. After fleeing north, he rises to serve as a butler in the White House for seven successive presidents, spanning from Eisenhower to Reagan, from Jim Crow to Barack Obama.
Though "The Butler" is based on the life of the long-serving White House butler Eugene Allen, it's a composite history (scripted by Danny Strong) where the currents of change – Emmett Till to the Black Panthers – course through a black family whose proximity to power doesn't make it any less elusive. Daniels' film isn't obsessive in its period detail (John Cusack plays Nixon with little makeup), but it moves to its own rhythm – one that films have usually set to a different beat.
"I'm grateful that these stories of African-Americans struggling in America are brought to light by anybody," says Daniels. "But it's always great to see it from the perspective of someone who has actually lived it and walked it and is it."
The film, which the Weinstein Co. will release Friday after a public and protracted feud with Warner Bros. over the rights to the title of "The Butler," also stars Oprah Winfrey as Gaines' wife and Oyelow as his firebrand son. The crux of the film is in the father-son relationship: one who effects change passively in a quiet dignity that slowly gathers a cumulative force, and another who resolutely protests on whites-only counters to spur action.
Winfrey, who co-produced Daniels' "Precious," was coaxed back into acting 15 years after "Beloved" by a persistent Daniels and by what she considered an important story.
"I was like: What is this movie?" says Winfrey. "But I could feel the heartbeat of a generation of men who had given themselves to their families and to their work and to creating a better life for themselves.
"Men like him," she adds, "are and were the foundation of the African-American community. I want people to know that person, that level of middle-class, hardworking man of integrity exists. That is who we are."
For Whitaker, the part was a welcome return to heavyweight performance (he sometimes played Gaines across three ages in one day), a thread the actor felt he had lost after his Oscar-winning turn as Ugandan dictator Idi Amin in 2006's "The Last King of Scotland." But Whitaker says he was "reinvigorated" by the demands of immersing himself in Gaines – listening to interview recordings of the deceased Allen, studying with a butler coach – to create who he calls a "quiet champion."
"Who are the owners of the White House?" says Whitaker, whose performance is being hailed by critics as one of his finest. "In fact, it is the people who own the White House and the presidents are, in a way, visitors. Since the White House staff lives there for 20 to 30 years on a normal basis, it's their home."
Creating the generational conflict of "The Butler" was particularly cathartic for the 53-year-old Daniels who has teenage twins (a son and daughter), and who was the victim of abuse from his policeman father growing up in West Philadelphia.
"Through this now, I understand where the abuse came from," says Daniels. "I understand and I forgive him, finally. He knew no better. His father beat him and his father's father beat him. It stemmed from slavery. It takes a very evolved person not to pass that on to your next generation. I know now why he beat me, because he didn't know any other way of communicating."
"I love him," says Daniels, finally breaking down into tears.
The line of history through "The Butler" runs right up to the present with plenty of contemporary reverberations beyond Obama. The film is a reminder for young audiences of the great accomplishments of an older generation of black Americans, but it also, as Oyelowo says, "contextualizes the America we live in today."
"For me, one of the private privileges was – especially with recent events like Trayvon Martin, with the erosion of the Voting Rights Bill, with the fact that we now have a black president – that it sort of put into context the best and the worst of America," says Oyelowo.
Such context is intensely personal for many, including the film's cast. Winfrey has recently spoken about an incident in Switzerland where a clerk suggested a hand bag was too expensive for her. In February, national news was made when a New York city deli employee frisked Whitaker out of suspicion for shoplifting.
"I've had incidents like that many times in my life," says Whitaker, who would prefer to look at the larger issues than focus on his particular incident. "It's such a broad scope thing. To just say, 'Oh, look what happened in this deli' when we're talking about things that permeate all over the place."
This year has produced an atypical burst of major films dealing with issues of racism head on, including the recent "Fruitvale Station" (of which Whitaker is a producer), the upcoming "12 Years a Slave" by Steve McQueen, an upcoming adaptation of Langston Hughes' "Black Nativity," and the upcoming biopic "Mandela: Long Walk to Freedom."
But "The Butler," which Daniels found after his Martin Luther King Jr. film "Selma" (in which Oyelowo was to star as King) fell apart, was difficult to get made. It was passed on by all the major studios. Daniels and the late producer Laura Ziskin sought financing independently from wealthy African Americans. The film has 35 credited producers, which is believed to be a record.
"When you are a minority, not only must you endure what minorities endure, but that also means in the workforce," says Daniels. "In my workforce, which is creating film, it's harder. And that's OK because that makes me work harder. It teaches my son to work harder. I don't look at is as woe is me. … No way. Get up and go to work, man. It's politically incorrect, anyway, to scream racism in Hollywood, in America. It's time to now not do that. We've got to call it as we see it. All of the adversity I've gone through – be it being called faggot, be it being called nigger – all of that has made me the man that I am."
Follow AP Entertainment Writer Jake Coyle on Twitter.
Photo credit: nydailynews.com
Copyright 2013 The Associated Press.
http://connect.facebook.net