The Lone Ranger – Benefiting American Indian College Fund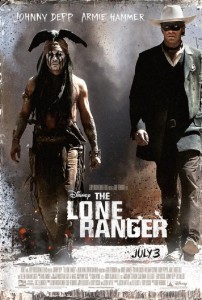 By D.A. Barber.
Although the movie opens in theaters July 3, The Lone Ranger – with Johnny Depp's portrayal of "Tonto" – American Indian groups already question its authenticity.
Some critics of the movie and even the website, The Onion, poked fun at Johnny Depp's, less-than-authentic portrayal of the fictional Indian character "Tonto." "Indians released a statement completely forgiving the United States for its systematic butchery and subsequent confinement of their people, saying that the new Lone Ranger movie 'had made it all worth it,'" reads the satirical piece.
However, not all American Indian groups are unhappy.
Johnny Depp appeared at a special screening of the film on June 21, in Lawton, Oklahoma – capital of the Comanche Nation. And a host of Indian Country leaders, including Comanche Nation Chairman, Wallace Coffey, Navajo Nation President Ben Shelly, and Jefferson Keel, President of the National Congress of American Indians, as well as American Indian actors, Saginaw Grant and Gil Birmingham, both of whom have supporting roles in the movie, attended the event.
Disney donated all the proceeds from its world premier in Los Angeles to the American Indian College Fund for tribal college scholarships, which took place on June 22, at Disney California Adventure Park in Anaheim, California.
"We've had a terrific collaboration with the Native American community throughout the production of Disney's 'The Lone Ranger,'" Alan Horn, Chairman of The Walt Disney Studios said in a written statement. "With the world premiere of this exciting film at hand, we are pleased to commemorate the occasion by supporting the American Indian College Fund."
World Premier Ticket sales to the public went for as much as $1,000 each to raise money American Indian College Fund, and because Disney also underwrote the entire cost of the premiere, which means the scholarships and other support for American Indian Students will receive 100 percent of the revenues received by the Fund. Another effort to increase funding included an autographed by the stars in attendance, one one-of-a-kind "Lone Ranger Ninja motorcycle" from Kawasaki, to auction it off later to support the Fund.
There are 34 fully accredited tribal colleges serving more than 30,000 students who represent more than 250 tribes from across the U.S., Mexico, and Canada operating on or near Indian reservations for those living in remote areas who otherwise could not afford to leave home to attend college.
Fund President, Cheryl Crazy Bull, stated: "The Fund is pleased to be the beneficiary of this event because our scholarships are an investment in a healthier, more prosperous future for tribal students and their families. We are poised to serve over 20,000 American Indian and Alaska Native students attending the tribal colleges across this country. Currently our scholarships serve less than 21 percent of those students, so we appreciate any opportunity to bring resources into our scholarship program."
Featured Photo Credit: http://news.xkb.com
http://connect.facebook.net