The Racial Divide On Social Media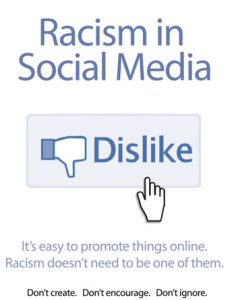 The Racial Divide On Social Media
By Rita Rizzo.
Think about your social media friends and followers. Are most of them of your same race and ethnicity or are your online buddies a multicultural mix? Long touted as a colorblind way to bring people around the globe together, a recent study on social media shows that segregation may exist.
A late 2012 Pew Research Center's Internet & American Life Project shows that different racial and ethnic groups are attracted to different types of social media.
The survey showed that African-Americans more heavily congregate on Twitter and Instagram than any other ethnic group. After interviewing 1800 respondents by phone between Nov. 4 and Dec. 19, researchers found that only 14 percent of whites use Twitter versus the 26 percent of African-Americans; additionally, 23 percent of African-Americans use Instagram, over 18 percent of Hispanics, and 11 percent of whites.
On the flipside, whites, specifically women, outnumber other ethnic groups when it comes to social media sites like Pinterest and Tumblr.
Business Insider interviewed Wayne Sutton, a social-media consultant, who says Twitter enables "a level playing field in getting (black Americans') voices heard. With the history of our culture, we now have an equal channel like anyone else."
According to Clutch.com, another reason for Blacks' gravitation toward social networking is the link to increased access through consumerism.
According to a 2012 Nielsen study, Blacks and Hispanics lead the way in the purchase of smartphones and tablets, with 54.4 percent of African-Americans and 57.3 percent of Hispanics owning smartphones versus 44.7 percent of whites.
Although many different notions exist about why there is a racial divide among social networkers, it may come down to an uncomplicated factor.
The purpose of social media is to provide a vehicle for people to hang out with their friends, so those who hang together in real life choose to do the same in the virtual realm.
Featured Photo Credit: kailabittinger.tumblr.com
http://connect.facebook.net