The Tragedy Of Josh Gibson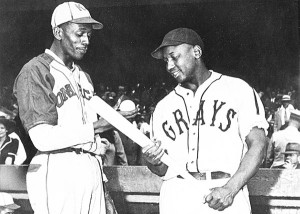 The Tragedy Of Josh Gibson
By Russell Roberts
With baseball season well on its way and the release of the new Jackie Robinson movie in theaters, it seems appropriate to look at one of the greatest African-American ballplayers who ever lived, yet denied the chance to play professional baseball because of the color of his skin: Josh Gibson.
Many people feel that Gibson, a catcher with a prodigiously powerful bat, and easily the first African-American to play in the major leagues, if allowed. "Josh Gibson was, at a minimum, two Yogi Berras," said Bill Veeck, one of the few baseball team owners who knew the wealth of talent contained in the Negro Leagues.
However, Gibson, like so many other black greats, was simply born too soon. Born December 21, 1911 in Buena Vista, Georgia, Gibson got his chance to play in the Negro Leagues in 1930 after the injury of the Homestead Grays regular catcher.
That started Gibson on his incredible career. Known as the "black Babe Ruth," some publications credit him with as many as 84 home runs in one season. He hit for power and average, rarely striking out, which is even more impressive if you understand that Negro League Baseballs were not clean, hard, white baseballs, but rather stained brown from dirt, mushy from repeated use, and hard to see. Awarded his Hall of Fame at Cooperstown plaque in 1972, credits Gibson with almost 800 home runs in his career, but that total could have been much higher.
Both the Washington Senators and the Pittsburgh Pirates of the major leagues wanted to sign Gibson, but unable to because he was black. Early in 1943, Gibson began suffering the effects of a brain tumor, but refused an operation. He continued to play, but the illness eroded his skills. The growing knowledge that he would never have his shot at the major leagues because of the color of his skin likely contributed to his deteriorating health.
As World War II wound down, rumors abounded that a black ballplayer would finally get a chance to play in the big leagues, but Gibson knew it wouldn't be him, a knowledge that had to gnaw at him. In January 1947 – just three months before Jackie Robinson's debut – Gibson died at age 35. The official cause of death was a stroke, although some feel it could just as easily have been a broken heart.
Featured Photo Credit: cbssports.com
http://connect.facebook.net