UEFA Levies Bans, and Fines to Serbia for Racial Abuse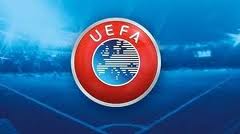 By Rob Harris
UEFA imposed heavy sanctions on Serbia on Thursday for an on-pitch brawl and its fans' racial abuse of England players at an ill-tempered under-21s match.
Two Serbia coaches have been banned from football for two years while four Serbia players will also serve suspensions over the scuffles that broke out at the end of the European Championship qualifier in Krusevac in Oct. 16
UEFA fined the Serbian federation €80,000 ($105,000) and the under-21 team will have to play a match behind closed doors over "a number of incidents," including the brawl and racial abuse directed at black England players during the match.
However, the English Football Association said the punishment was too light.
"We are disappointed with the sanctions levied by UEFA with regards to the racist behavior displayed towards England's players," FA General Secretary Alex Horne said. "Let's be clear, racism is unacceptable in any form, and should play no part in football. The scenes were deplorable and we do not believe the sanction sends a strong enough message."
Serbian football officials acknowledged that the ugly scenes were unacceptable, and that it would take measures to prevent similar incidents in the future.
"This incident and today's measures represent the last warning for all of us who work in Serbian football, including coaches, players and fans," said Zoran Lakovic, the general secretary of Serbia's FA. "I remind everyone that we are under special UEFA scrutiny and even the smallest next mistake could lead to rigorous punishment."
England, which won the match 1-0 to qualify for the Euro 2013 in June, had also been charged with "improper conduct", but was only issued with a warning while two of its players were given suspensions.
The post-match brawl began after England defender Danny Rose complained he was subjected to monkey chants every time he touched the ball. He was sent off after kicking a ball into the stands after the final whistle, and gestured to the crowd that he had been racially abused.
"It is The FA's vehement belief that its players and staff acted correctly in the face of provocation, including racist abuse and missiles being thrown," Horne said.
The heaviest sanctions are the two-year bans for Serbia fitness coach Andreja Milunovic and assistant coach Predrag Katic which UEFA will ask FIFA to apply worldwide. The second year of Milunovic's ban and the final six months of Katic's ban are suspended for three years.
Four Serbia players were given international bans: Goran Causic for four games, Ognjen Mudrinski and Filip Malbasic for three games and Nikola Ninkovic for two matches.
The two banned England players are defender Steven Caulker (two matches) and midfielder Thomas Ince (one match). The sanctions will take effect at the finals next June when England faces Italy, Norway and Israel in the group stage.
"I am concerned to see our players suspended by UEFA and we will continue to support them," England coach Stuart Pearce said. "I maintain that our players played no part in the aggression. From what I witnessed our players and staff were forced to protect themselves in the violent scenes that followed the game."
The FA plans to lodge an appeal, but Serbia appeared to accept the punishments, while reserving its right to appeal.
"Considering what punishments were proposed . which were drastic, we conclude that we passed quite well," Lakovic said.
Lakovic claimed that UEFA's control and disciplinary body did not "succumb to pressure" despite the wide focus on the case.
Lakovic said the fact that Serbian football and government officials both immediately condemned the incident, opened an investigation and punished the culprits "might have contributed" to a lenient punishment.
In 2007, UEFA fined Serbia €24,000 (then $32,600) after its players and fans hurled racist abuse during another under-21 game against England.
____
Dusan Stojanovic in Belgrade, Serbia contributed to this report.
Copyright 2012 The Associated Press.
http://connect.facebook.net