Universities Fight For Chinese College Students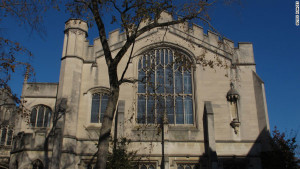 By D.A. Barber.
In 1992, Congress expanded the 1978 "Asian/Pacific American Heritage Week" to a month long celebration in May (now called Asian American/Pacific Islander (AAPI) Heritage Month ) to commemorate, among other things,  the contributions of Chinese workers who completed the transcontinental railroad on May 10, 1869.
More recently, Chinese parents have been sending their kids to the U.S. in increasing numbers to attend college – a fact hit home painfully when hundreds gathered on April 22 for the memorial service of Boston bombing victim Lu Lingzi, the Chinese 23-year-old Boston University graduate student. And these same universities fight for Chinese college students to enroll.
In fact, China continues to send the most international students enrolled in U.S. colleges – 194,029 in 2011, according to a November 2012 report from the Institute of International Education. Of the 765,000 international students in U.S. universities and colleges in 2011, Chinese students made up the country's largest group. The IIE's annual "Open Doors" study indicates that international enrollment at U.S. campuses grew nearly 6 percent last year, driven by a 23-percent increase from China.
It goes without saying that, despite tough U.S. Visa restrictions, it behooves the U.S to keep these graduates with science and engineering skills in the U.S., and even to go on to become citizens. In fact, Asians are the fastest growing racial group according to a March 2012 report released by the U.S. Census Bureau. Asian-Americans grew by 45.6 percent from 2000 to 2010 – four times faster than the total U.S. population and Chinese were the largest Asian group. By 2020, projections estimate 20 million Asian Americans will live in the U.S., the second fastest-growing minority group behind Hispanics.
But after seven consecutive years of double-digit increases, the number of Chinese applications to graduate programs in the United States fell this spring to an unexpected 5 percent, according to an April 8, 2013, report by the Council of Graduate Schools. Chinese graduate student numbers – 29 percent of international graduate students at U.S. universities – was increasing at an average of about 18 percent a year.
China is intensely investing in its own university system to the tune of $250 billion per year and I.B.M., General Electric, Intel, and General Motors hired thousands of these Chinese university graduates.
The main reason any decrease in international enrollments is a concern to U.S. universities is the tuition revenue. What U.S. universities just love is that most international students pay full tuition, with about two-thirds primarily using personal family funds.
It is for that reason that, according to speakers at an October 2012 conference of the National Association for College Admission Counseling, China as the most populous nation in the world is the prime hunting ground for recruiting full tuition paying "cash cow" students. Universities are also eager to recruit Chinese students to achieve "campus diversity" goals, and Chinese students already on campus are an unwitting recruitment tool because of their use of online social media to post campus life photos for friends back home.
But there is growing concern about the isolation of international students on U.S. campuses. A June 2012 study in the National Communication Association's Journal of International and Intercultural Communication, found 40 percent of international students reported no close American friends. Among those international students who were most disappointed with their relationships with U.S. student friends, were students from China and East Asia, citing a number of cultural and even ethical barriers.
There may be another reason these "model minority" students feel lonely on campus: Nationally, only 1.5 percent of college presidents were of Asian descent in 2011, according to the American Council on Education.
Featured Photo Credit: Getty Images
http://connect.facebook.net