The Stand In The Schoolhouse Door: UofA Celebrates 50th Anniversary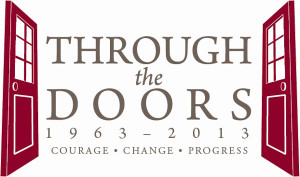 Remembering President Kennedy's Impact On Civil Rights
By D.A. Barber.
Tuesday, June 11 marks 50 years since President John F. Kennedy made his historic civil rights speech on evening national television, promising a bill to Congress granting civil rights for "Negroes," and asking for "the kind of equality of treatment which we would want for ourselves."
But earlier that day, President Kennedy was busy intervening when Alabama Governor George C. Wallace stood in front of a schoolhouse door at the University of Alabama in an attempt to stop the enrollment of two black students. Kennedy ordered the National Guard to force Wallace too step aside, and allow Vivian Malone and James Hood through the doors of Foster Auditorium and end racial segregation at the University of Alabama.
After serving four terms as governor, Wallace later apologized for his behavior during the civil rights era. On April 5, 2005, they declared Foster Auditorium a National Historic Landmark, and the Malone-Hood Plaza in front of Foster honors the University's first two African-American students.
On June 11, 2013, UA is hosting "Through the Doors: Courage. Change. Progress." at the same site to commemorate that historic day and celebrate 50 years of progress with a program featuring speakers and musical performances designed to honor the courage and dedication of Malone, who died in 2005, and Hood, who died January 17 of this year.
"This is an opportunity to reflect on our history, celebrate our progress and look ahead to the next 50 years of change on our campus," said UA President Judy Bonner.
Today, the university's student body is almost 13 percent black and is "one of the top five public flagship universities in the nation," in the enrollment of African-American students, according to their website.
Other "The Stand in the Schoolhouse Door" events are scheduled in coming months as part of a yearlong commemoration and a special website launched in February serves as a source of historical information beginning with Autherine Lucy's attempt to enroll at UA as the first African-American student in 1956.
Featured Photo Credit: uanews.ua.edu 
Source: AP
http://connect.facebook.net