Version of Dream Act Bill Introduced By Senate Republicans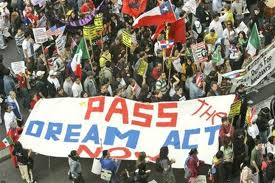 By Jim Abrams
WASHINGTON (AP) — Two Senate Republicans on Tuesday unveiled their version of the Dream Act, stalled legislation that would provide a path to legal status for hundreds of thousands of young immigrants, many who have spent most of their lives in the United States.
The bill introduced by Sens. Jon Kyl of Arizona and Kay Bailey Hutchison of Texas was the latest effort by Republicans to show they are serious about tackling the immigration issue after their poor showing of support among Hispanics in the Nov. 6 election.
Republicans in the House this week are also taking up a bill that would provide up to 55,000 green cards — permanent status visas — each year to foreign students in the fields of science, technology, engineering and mathematics. That bill would also make it easier for those with green cards to be reunited with their spouses or children living in their home countries.
Neither bill has much chance of advancing in the remaining few days of the current lame-duck session, but both show that Republicans have made overhauling immigration policies a priority as they try to rebound from the beating they took among Hispanic voters.
Kyl and Hutchison, both of whom are retiring at the end of this session, said they had been working on their bill for a year and it was not a political response to the election. But they said that the timing was right to start the discussion. "We have to get this ball rolling," Kyl said.
They said they have been consulting with Sens. John McCain of Arizona and Marco Rubio of Florida, two Republicans who have been in the forefront of the immigration policy debate.The original Dream Act, which fell short in the Senate two years ago after barely passing the House, would have provided a route to legal status for an estimated 1 million to 2 million illegal immigrants who were brought to the U.S. before age 16, had been here for five years, graduated from high school or gained an equivalency degree or who joined the military or attended college.
With the legislation going nowhere, President Barack Obama in June this year bypassed Congress, taking administrative steps to shield as many as 800,000 immigrants from deportation. The condition was that they were brought to the United States before they turned 16, are younger than 30, have been in the country for at least five continuous years, had graduated from a high school or GED program or had served in the military. They were also allowed to apply for a two-year renewable work permit.
The Kyl-Hutchison proposal, called the Achieve Act, requires applicants to enter the country before age 14 and they must have lived in the United States for at least five years.
It provides for three different visa levels: the first, good for up to six years, for students; the second, a work visa good for four years, and the third is a permanent nonimmigrant visa that would be renewed every five years.
Their proposal sets such conditions as saying that students may not have access to federal student loans or other federal benefits and that those with permanent visas are not eligible for public welfare benefits. They also stressed that the bill was not a path to citizenship and that those applying for a green card would have to go through the same procedures as other non-citizens. That differs from the Dream Act of two years ago, under which those who met the qualifications would eventually receive a green card.
Clarissa Martinez, director of immigration at the National Council of La Raza, the country's largest Latino civil rights organization, said she thought the GOP proposal was disappointing and fell short of what was needed. "What is needed here is robust piece of legislation that reflects the times and what the country expects to be done."
Copyright 2012 The Associated Press.
http://connect.facebook.net