Vogue Magazine – Black Face Painted Models in 2013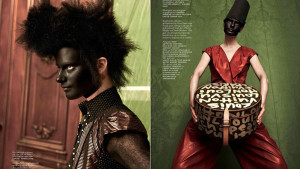 Vogue Magazine – Black Face Painted Models
By D.A. Barber.
The current May 2013 issue of Vogue Netherlands magazine is taking some heat for attempting to pay homage to the contributions of black cultural icons by using white models in black face paint.
So is there a reason that Vogue Magazine can't find black models?
In their "Heritage Heroes" layout, the editors choose to dress-up white, blond Dutch model Querelle Jansen in black face paint and a black "Afro" wig in fashion shoots that are suppose to depict American-born French singer and dancer Josephine Baker, and Jamaican singer and model Grace Jones.
This is not the first time the fashion magazine industry has pulled this stunt. The March 2013 issue of Numéro L'Officiel featured an "African Queen" editorial using 16-year-old white model Ondria Hardin, which the editors said in a statement that it was an artistic statement "which insist on the melting pot and the mix of cultures, the exact opposite of any skin color based discrimination." The magazine did a similar layout in 2010 when they used then 18-year-old French model Constance Jablonski in blackface and Afro wigs with a black toddler as a prop.
The October 2009 issue of Vogue Paris also published a photo spread with white Dutch supermodel Lara Stone in full-body black paint. That "special issue" was suppose to be dedicated to "Supermodels," but actually contained no black supermodels.
Much of the editorial in the current May 2013 issue of Vogue Netherlands touts designer Mark Jacobs's past work for Louis Vuitton, when his inspiration for his Fall 2008, and Spring 2009 collections came, in part, from African-American cultural icons. One photo caption reads: "inspired by the style of the Parisian showgirl Josephine Baker, mixed with tribal influences."
Featured Photo Credit: aww.ninemsn.com.au
http://connect.facebook.net