White Supremacy Groups On the Move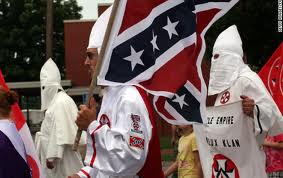 By Nicholas K Geranios
SPOKANE, Wash. (AP) – A disciple of former Aryan Nations leader Richard Butler wants to build a new compound in northern Idaho to act as a gathering place for white supremacists, a development that troubles human rights groups who spent decades battling Butler and his group.
Shaun Winkler, who unsuccessfully ran for sheriff of Bonner County earlier this year, said a supporter is donating 8 acres near the town of Priest River, Idaho, that he hopes to develop into a place for white supremacists to conduct meetings, cross burnings and other activities.
"I'm just one guy that wants to bring people together to continue the struggle for white survival," Winkler, 33, told The Associated Press this week.Butler's high-profile Aryan Nations activity tainted northern Idaho's image nationally, and local civil rights groups were wary of a potential new hub for racist activity.
"Our work has to go on to promote equality and justice and fairness," said Tony Stewart, a leader of the Kootenai County Task Force on Human Relations. Human rights groups, including the Southern Poverty Law Center, at this point are just raising awareness. There are no active efforts to try to thwart Winkler.
The task force and the Southern Poverty Law Center combined to push a civil lawsuit that bankrupted the Aryan Nations in 2000, leading to the sale of the original compound. Butler died in 2004.
Winkler declined to identify his benefactor, other than to say he was a former Los Angeles police officer who had supported Winkler's bid for sheriff. Aryan Nations was structured as a church of the white supremacist Christian Identity religion, and Winkler said the new compound will include a church hall for services and places for supporters to live.
Winkler, who works as a logger, originally planned the compound on 17 acres of nearby land he purchased last year. But money woes have pushed that purchase toward foreclosure.
Winkler described himself as an imperial wizard in the White Knights of the Ku Klux Klan, and said the compound will operate under a flag of the KKK, rather than Aryan Nations.
"This is an early step," he said. "It's not going to happen overnight."
He considers himself a white separatist, who believes people of different races should live segregated lives.
"We aren't here to kill anybody. We aren't here to cause harm to anyone," Winkler said. "We just don't want nothing to do with their society."
Bonner County, like much of the rest of the region, has a population that is overwhelmingly white – about 96 percent of the 40,000 residents.
Winkler studied the racist Christian Identity religion under Butler. He has continued to live in the area, sometimes hosting cross burnings on his land and protesting the presence of Hispanics and other minorities. Winkler has picketed Mexican food carts in nearby Coeur d'Alene, and protested the annual Martin Luther King Jr. events at North Idaho College in January.
Butler for nearly three decades operated out of a 20-acre compound that became a gathering place for white supremacists. He held annual meetings that drew hundreds of supporters.
The land was auctioned off after he lost a lawsuit in 2000 brought by the SPLC on behalf of a woman and her son who were terrorized by Butler's security guards during one of those annual meetings.
Copyright 2012 The Associated Press.
http://connect.facebook.net