Will Obama's New Cabinet Be Less Diverse?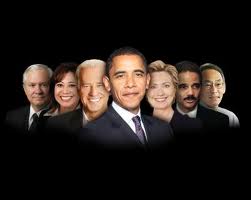 By D.A. Barber
 As President Obama approaches his second Inauguration Day on Monday, January 21, 2013, it appears that his new cabinet could be less diverse. 
Lisa P. Jackson, the Environmental Protection Agency's first black administrator, announced she will leave after the president's State of the Union address. 
And Secretary of Energy, Dr. Steven Chu, the second Chinese American to be a member of the U.S. Cabinet, is anticipated to be leaving soon though no date has been announced. 
Jackson was confirmed for EPA Administrator on January 22, 2009. A chemical engineering graduate from Princeton University, she has always been a role model for women of color entering a STEM (science, technology, engineering and math) field through a college scholarship from the National Consortium for Graduate Degrees for Minorities in Engineering & Science. 
Under Jackson, the EPA declared that carbon dioxide, along with other greenhouse gases, threatens human health and established the agency's first standard for mercury pollution from coal power plants. As far back as February 2010, Jackson stood up to climate change deniers, noting that "The science behind climate change is settled, and human activity is responsible for global warming." Needless to say, her tenure had drawn fervent criticism from congressional Republicans, especially those representing "Coal Country," prompting Rep. Hal Rogers (R-Ky.) to call her December 27 resignation "a late Christmas gift to the Appalachian coal fields." 
Despite attacks on her, Jackson was named one of Newsweek's "Most Important People in 2010," was featured on Time magazine's 2010 and 2011 lists of the "100 Most Influential People in the World", and listed in Essence magazine's "40 Women Who Have Influenced the World."  
Born in Saint Louis, Dr. Steven Chu is only the second Chinese American to be a member of the Cabinet after Elaine Chao, who served as Secretary of Labor in from 2001 to 2009 and was both the first Asian Pacific American woman and first Chinese American to be appointed to a President's cabinet in U.S. history. Dr. Chu was the co-recipient of the 1997 Nobel Prize for Physics and taught at the University of California as both Professor of Physics and Professor of Molecular and Cell Biology. 
From the time he was unanimously confirmed on January 20, 2009, Chu has been instrumental in implementing President Obama's agenda to invest in clean energy, which is perceived as having the potential of creating millions of new jobs. 
With these two departures, the diversity of the 23-member Cabinet-level officers drops to four people of color, including Susan Rice who's chance of advancement from Ambassador to the United Nations to the post of Secretary of State was derailed before she was even nominated. That experience means replacing these two soon-to-be-open important and powerful positions with anybody, let alone people of color, will be a daunting task for the White House.
http://connect.facebook.net