Will Pope Francis Promote Inclusiveness?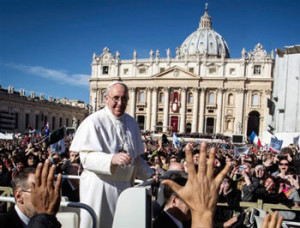 Pope Francis Promotes Inclusiveness
By Rita Rizzo
Also known as, Pope Francisco in the Latino community, Pope Frances is said to be a man of the people. Early signs suggest that he will be a man of all of the people. "He seems like he has the type of attitude … comfort is the word I want to use, that the Catholic church needs at this point in time," said lifelong Catholic Gabrielle Mortis, 20, a senior at Wake Forest University. Will Pope Francis promote inclusiveness?
According to Black Politics on the Web, Mortis, a member of the predominately black, St. Benedict the Moor, said she was glad to see the first pope from the Americas elected and impressed that the Pope is a Jesuit, a religious order whose members are known for being well educated and having a sense of social justice.
A man of many contradictions, thestar.com describes a man who does his own cooking and lives a simple life. He has historically been a strong advocate for the poor and the sick. In 2001, he visited a hospice for HIV/AIDS patients to wash and kiss the feet of a dozen residents. But the new Pope is also known to be quite conservative. He is against birth control, abortion, and same-sex marriage. In 2010, he called same-sex adoption a form of discrimination against children.
It appears that the church may inch closer to a position of social justice and inclusiveness under the leadership of Pope Frances, starting with a new attitude of humility, and support for the poor and underprivileged. But the social issues that plague the poor and hold them in poverty, such as large family size, will remain sacred vestiges of this papacy for now. Let us hope his compassion overrides his current stance on these issues and propels him toward a spirit of inclusion for all God's children.
http://connect.facebook.net